The firm Valentin Zusslin is run by two siblings, Jean-Paul and Marie. In the background their father Jean-Marie is still active, while the founder and grandfather Valentin died in 2011. Zusslin has the motto "13 generations, one family, one thousand ideas". It is an apt description of how Zusslin is rooted in history, present in the moment and invests in the future.
In 1995 Jean-Paul Zusslin, after a short course at the wine school in Rouffach, took the decision to convert the whole production into biodynamics. Since vintage 2000, the entire operation has been certified.
A lot of the work in the vineyards is carried out by Sesame, a friendly horse normally grazing in a pasture within the village. Today, he is alone in the stables, but Jean-Paul and Marie are looking for another horse that can work the soil without causing compaction. In another paddock one finds the fruit trees that provide fruit for the marc made at the domaine.
Zusslin has most of it's 13 hectares of vineyards in the valley that stretches north from Orschwihr towards Vallée Noble. A large percentage are the excellent lieu-dit Bollenberg. The Bollenberg consist mainly of oligocene conglomerates, much like Grands Crus Mambourg and Hengst. The potential of the soil and the sunny, dry location makes Bollenberg a real Premier Cru - if such had been found in Alsace. The total area of ​​Bollenberg is as large as 300 hectares. The uniqueness of the Bollenberg is that it is suitable for all grapes. Zusslin grows all four noble grapes as well as Pinot Noir on Bollenberg.
Zusslin also offers Clos Liebenberg, a lieu-dit bordering Grand Cru Pfingstberg. Here Sylvaner and Riesling are grown. The Riesling often surpass the domain's Grand Cru, especially for those who enjoy firm acidity. Clos Liebenberg gives low yields and Rieslings with great complexity and minerality. Zusslin has only on Riesling on Grand Cru Pfingstberg, not Pinot Gris, which is unusual in the village of Orschwihr.
Zusslin is a domaine with high ambitions for quality and form the environment. All wines are made with tremendous care, minimal intervention and great technical skill. The price level is slightly above the levels of most producers around Orschwihr. But it is largely explained by the low yields and the strict selection.
So if you love Riesling and are interested in Pinot Noir, do not miss Zusslin!
Latest visit: 2013.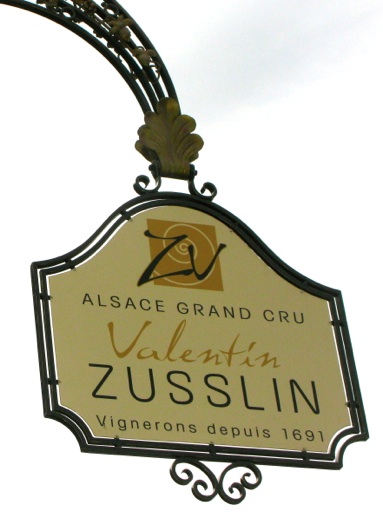 Facts
Key person
Jean-Paul and Marie Zusslin
Address
56 Grand'Rue, Orschwihr
Contact
+33 (0) 389 76 82 84
www.zusslin.com
Price range (2013)
Riesling Orschwihr €9
Riesling Clos Liebenberg €18
Riesling Grand Cru Pfingstberg €26,50
Style
Pure, elegant and firm wines of superior quality.
Reception
Very warm-hearted and welcoming. English spoken.
Terroirs
Lieux-dits: Bollenberg, Clos Liebenberg
Grand cru: Pfingstberg
Representative wines (2013)
Hidden Treasure
2010 Auxerrois
Ripe, characteristic fragrance with peach, melon, cardamom and yellow apples. Elegant and smooth, slightly above medium-bodied palate with fresh acidity and a pleasant mouth feel without excessive weight. Very elegant!
Basic Riesling
2011 Riesling Orschwihr
Generous, attractive and expressive aromas of warm apples, gum and candy. Wonderfully fresh taste with rich fruity, firm but ripe acidity and perfect balance. Made of wines from many plots, including young vines at Grand Cru vineyards.
Top Range Riesling
2008 Riesling Clos Liebenberg
Developed, complex and interesting aroma with honey, almonds, mandarin as well as a dash of honey and hint of petroleum. Clean, classic taste with firm acids with great structure, rich fruit and a middle-palate with great punch. A wine that illustrates what the combination of low yield and a cool growing location can accomplish.
Most Exciting Wine
2009 Pinot Noir Bollenberg
Spicy, very youthful aroma loaded with vanilla, juicy black cherry licorice, strawberries and coffee. Very tight palate with supporting acids, pronounced tannins from a long maceration, powerful fruit, as well as a long, still slightly harsh finish.