It is a pleasure to visit, an honor to be received by Olivier Humbrecht, and an extraordinary experience to taste the entire range of wines on site. Because, regardless of which scale of reference that is applied, Olivier Humbrecht is one of the highest achievers and most influential individuals in the world of wines.
The wines of Zind-Humbrecht are always true to the variety, and they express the terroir in a profound and consistent manner. At the same time, Zind-Humbrecht has an obnoxious house style where power, richness, complexity and splendid acidity is combined to form for a balanced whole. However, the house style is never allowed to subdue or dominate the variety or the terroir, but rather to enforce them. Some characteristics of the production are:
Biodynamic viticulture with a minimum of pruning during the vegetative period, deep roots and herbaceous ground cover leads to self-regulation of cropping and growth and tolerance to drought as well as rot-inducing rainfalls.
Extremely long cycles of pressing, 12-24 hours as compared to the normal cycles of 4-6 hours.
Short cycles of (4 hours as compared to 24-48 hours) of clarification after pressing in order to ensure that natural yiests and proteins are retained in the must.
Natural malolactic transformation of the small amounts of malic acids that are present in the mature grapes.
Extended period "sur lie" in large casks (foudres) with carefully controlled balance between oxygen supply and reductive capacity in order to create a complex, autolytic character.
But as interesting is the PHENOMENON Zind-Humbrecht. What does it take to reach this celestial level, in terms of quality across the range of the wines as much as with respect to reputation and finances? I have two lines of thoughts:
1. The culture of Alsace. In Alsace, the passion of France is combined with the sense of order associated with the German heritage. Previously, this preference for control and tidiness could be seen as perfectly trimmed vines, a ruthless combat against weeds and pests, and the use of all tricks, dirty and others, to create predictable varietal wines that were chemically and microbially stable. But Zind-Humbrecht, and an increasing numer of other producers, have projected this regional character in the opposite direction. Hence, based on the same care and dedication, they strive to release the intrinsic potential that nature brings, in the vineyard as well as in the cellar. The result? A huge leap forward in terms of quality, as well as towards ecologically sustainable agricultural practices.
2. Company culture. Just as Toyota, Zind-Humbrecht appears to base its efforts on; 'Genchi Genbutsu - Go to the source to find the facts'. Olivier Humbrecht has - and applies - profound and scientifically based knowledge and understanding of viticulture and winemaking. Is there anyone that could match Olivier Humbrecht in this exhaustible field of science (and engineering)?
The prices of Zind-Humbrecht may seem high. But considering the quality and global position of Zind-Humbrecht, the prices are very sensible.
My impression is that Olivier Humbrecht makes wines to be enjoyed at the table by "ordinary peaople", rather than show-off pieces to be analyzed by the press. There is no doubt that Olivier Humbrecht wants to show the world what Alsace in general and his beloved terroirs in particular, are capable of. And he makes his utmost, down to every single details, to reach perfection.
Latest visit: 2008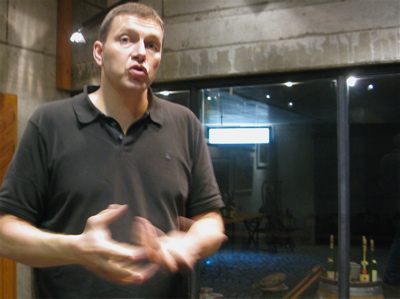 Facts
Key person
Olivier Humbrecht
Address
4, route de Colmar, Turckheim
Contact
+33 (0)389 27 02 05
o.humbrecht@zind-humbrecht.fr
Price Range (2008)
Riesling Herrenweg 26.80
Riesling Grand Cru Rangen €64.10
Style
Power, richness, balance and incomparable complexity.
reception
Appointment needed. Perfectly fluent English.
Terroirs
Grands Crus: Brand, Goldert, Hengst, Rangen
Lieux-dits: Clos Jebsal, Clos Hauserer, Clos Windsbuhl, Herrenweg, Rotenberg
Representative wines 2008
Hidden Treasure
2006 Gewurztraminer Herrenweg
Charming aroma of honey, rose-petals and exotic spices. Soft and elegant, complex taste with lovely (=non-sticky) sweetness. A tiny bitterness covers up for the naturally low level of acidity.
Everyday Riesling
2006 Riesling Herrenweg
Fruity, surprisingly open aroma with a mall trace of the difficulties of the vintage. Powerful, fruity elegant undeveloped taste with remarkable, broad acidity.
Top Range Riesling
2006 Riesling Clos Windsbuhl
Restrained, very pure and clean aroma with flinty minerality and fresh citrus. Wonderful, firm taste that is very square at present. below the vibrating acidity, layers of mature fruit is waiting to be unlashed. A sensational expression of Muschelkalk that will need at least 5 years to start to fill out on the palate.
Most Exciting Wine
2006 Pinot Gris Clos Jebsal Vendanges Tardives
Fresh, smokey aroma of roasted almonds, warm apricots and bacon. Unbelievably rich, creamy taste of sun-drenched fruits and nuts. Despite the huge sugar content, more than 100 g/liter, the impression is one of pure elegance. A world-class wine, no doubt! Grown on calcareous-marl-gypsum on the foot of Grand Cru Brand, and harvested at 20% potential alcohol and the yield 23 hl/ha.