When one travels in wine districts, one feels a certain excitement prior to the first visit with certain producers. For me, Bruno Sorg was such a person. As we met, M. Sorg turned out to be the most welcoming, straightforward and charming person imaginable.
I have had the privilege to visit the Bruno Sorg domain 5 times 2005-07 and I become more and more impressed by the wines produces by François Sorg in the spirit of the family tradition.
The philosophy is quite simple: the winemaker starts out with 100% of the potential the moment the grapes are picked. Hence, the role of the grower is to make these 100% as much as possible, while the role of the winemaker is to loose as few percents of the potential as possible.
The wines of Bruno Sorg all possess terrific stringency and admirable definition. During the maturation in the vineyard, the malic acid in the grapes is reduced in favour of the tartaric acid. At Bruno Sorg, they monitor this process carefully and picks at the right time. This results in mature fruit, supreme structure and high but pleasant acidity.
Bruno Sorg offers three Grands Crus, Pfersigberg (Riesling, Pinot Gris, Muscat and Gewurztraminer) and Eichberg (Gewurztraminer) and Florimont (Riesling and Pinot Gris). In terms of character, Florimont is the sharpest, full of citrus, Pfersigberg offers supreme minerality, while Eichberg is the biggest and most exotic.
The Muscat Pfersigberg, made from 80% Muscat à petis grains and 20% Muscat Ottonnel is legendary. It is powerful but light as a feather, it is dry but fruity, mouth-filling but elegant. In his book from 1993, Tom Stevenson claims that this is the greatest Muscat made in Alsace. Who would argue?
The price policy is very attractive. The Vielles Vignes cuvées of Pinot Gris and Gewurztraminer are highly recommended. The crémant, based on Chardonnay, is among the best around.
I once asked Bruno Sorg, spending a lot of time in the tasting room and with grandchildren if he still spends time in the vines, and got the answer: "Si je veux, je peux". Now, his daughter-in-law, Régine, generally guides the customers.
Latest visit: 2011. The wines get better and better.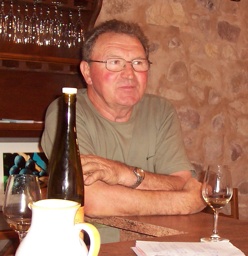 Facts
Key persons
François, Régine and Bruno Sorg
Address
8, rue Monseigneur Stumpf (in front of the entrance to the church)
Contact
+33 (0)389 41 80 85
+33 (0)389 41 22 64 (fax)
vins@domaine-bruno-sorg.com
Price range (2011)
Riesling Génerique €7
Riesling Pfersigberg €12
Muscat Pfersigberg €11
Style
Firm, lively and focused wines.
Reception
Very gentle, nice and welcoming. Do not expect English.
Terroir
Grands Crus: Eichberg, Florimont, Pfersigberg
Lieux-dits: -
Selected representative wines 2011
Hidden Treasure 21
Crémant d'Alsace
Complex, toasty nose with citrus and mature apples. The mousse is superb, the taste is elegant, depp, fresh and fruity with a long toasted aftertaste. This great effort spends three years "sur latte" before being degorged. Made from at least 50% Chardonnay as well as Pinot Blanc and Auxerrois. Must be among the best in all Alsace.
Hidden Treasure 2
2009 Pinot Blanc
The aroma is full with the nutty and fat character of (80%) Auxerrois. The taste is full and fruity with a hint of spices, nuts and superior balance. This is my house wine and the Worlds best value, loved by everybody.
Basic Riesling
2009 Riesling
Typical, fresh Riesling aroma of apples, a touch of minerlas and various citrus notes. The taste is medium-bodied, elegant with mature fruit. Although very dry it is still round, supple and generous.
Top Range Riesling
2007 Riesling Grand Cru Pfersigberg
Developed aroma of crushed grapes and with the hallmark, dusty minerality of Pfersigberg. Quite dry, medium-bodied taste with layer upon layer of mature fruit and minerals.
Most Exciting Wine
2009 Muscat Grand Cru Pfersigberg
Up-front notes of grapes, some mint, flowers and pure pleasure. Seductive, soft, velvety taste, full taste of Mucat with superb acidity and the minerality typical of this great terroir.