Domaine Gérad Schueller is located in Husseren-les-Châteux, a small hamlet hanging on to the hillslope below a series of old caste ruins. Situated south-west of Colmar, they mark the northern boundary of the geological fault stretching south towards Thann.
The domaine is managed by Bruno Schueller who is anything but main stream. Although the vinification methods, anchored in biodynamic viticultural ideas, create high class wines with loads of personality, the relations with INAO are not uncomplicated.
Bruno Scheuller owns land on Grands Crus that are split between Eguisheim and Husseren-les-Chateaux, namely Pfersigberg and Eichberg. However, the most interesting terroir may be Bildstœcklé. This lieu-dit is within the commune of Obermorschwihr, the southern neighbour of Eguisheim. During the years when the Grands Crus where to be delimited, most communes to get their "own". Grand Cru. But not Obermorschwihr. Here, there were simply no reputed growers willing to mobilize and pursue the issue. Today, grapes from Bildstœckl&eacute, a calcareous soil, are sought after by some of the most reputed houses of Alsace.
Schueller makes wines with a minimum of intervention. No, or a minimum of sulphur is added during the vinification, the primary fermentation is allowed to reduce the residual sugar to a minimum, and Schueller opens up for malolactic fermentation. The result is personal, golden, aromatic wines with a wide range of aromas and flavours, and wines with dry, almost hard finish with profound minerality.
The wines are not always in line with what is seen as typical for varietal wines of Alsace. It is not uncommon that the wines of Bruno Schueller do not pass the sensory tests of INAO. However, this does not seem to worry this utterly skilful, friendly and creative "artisan". Seek out the wines of Bruno Schueller, but do it with an open mind. Seek and Thou Shalt Find!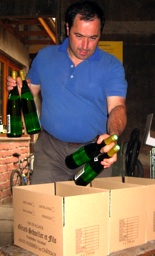 Facts
Key persons
Bruno Schueller
Address
1 rue des Trois Chateaux
Contact
+33 (0)389 49 31 54
+33 (0)389 49 36 63 (fax)
Price range (2006)
Riesling €6.50
Riesling Grand Cru Pfersigberg €14.50
Style
Aromatic and firm in a style of its own.
Reception
Very pleasent and serious. Book in advance. No English.
Terroir
Grands Crus: Eichberg, Pfersigberg
Lieux-dits: Bildstœcklé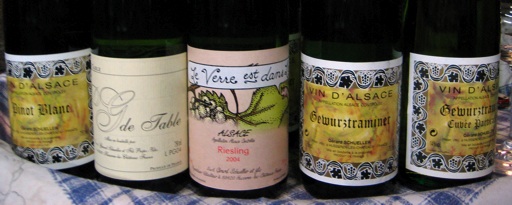 Selected representative wines 2007
Hidden Treasure
2005 Pinot Blanc
A 100% Auxerrois. The nose is very developed (after aeration!) with fruit, boiled vegetables and citrus. On the palate it is medium bodied with good structure, ripe fruit and amazing acidity and minerality. Give it 2 hours.
Basic Riesling
2005 Riesling Cuvée Particulère
Very peculiar and aromatic karosene-style aroma. Dry, powerful taste with toffée, hazelnuts and red grapefruit.
Top Range Riesling
2005 Risling Grand Cru Pfersigberg
Complex aroma of nuts, violets and haney. The taste is hard and compact, very dry and long with challenging minerality.
Most Exciting Wine
2005 Gewurztraminer Bildstœcklé
Spicy and elegant with roese, arrack and honey. The taste is vigorous, melting and elegant. A superb wine!