If I were forces to select one wine to drink the rest of my life, it would very well be Riesling Grand Cru Rangen Clos Saint-Théobald.
Domaine Schoffit is run by Bernhard Schoffit, that makes no compromises whatsoever in terms of quality. He also has a long-term perspective on his work, nursing old vineyards with old vines with utmost care.
Bernard Schoffit made a historic contribution when he, after years of negotiations, bought 6.5 of the 18.8 ha of the southern-most Grand Cru of Alsace, the volcanic Rangen. At that time, the vineyards were neglected and mismanaged. Today, it is a vineyard on par with the likes of Montrachet and Chambertin.
Domaine Schoffit is situated on old vegetable farming land in an eastern residential area of Colmar. The facilities are very modern and perfectly equipped.
Beside Rangen, Bernhard Schoffit has land on Harth, an alluvial terroir close to the commercial area of Hussen in northern Colmar, and the granitic Grand Cru Sommerberg (Niedermorschwihr). On Harth, Schoffit has 80 years old Chasselas vines. A few percent are systematically renewed each year, an illustration of the long-term perspective put in action by Bernhard Schoffit.
The vinification starts with gentle pressing and clarification of the cool must for 48 hours. Bernhard Schoffit supervises the fermentation with his palate. The dry cuvées are named Tradition, Cuvée Caroline a bit fuller. The Cuvée Alexandre may be quite rich, balanced by very good acidity.
The Grand Cru wines of Bernhard Schoffit are World Class wines. They are always rich but never heavy, and combine a full body with genuine varietal and terroir character.
First visit: 2005. Latest visit: 2013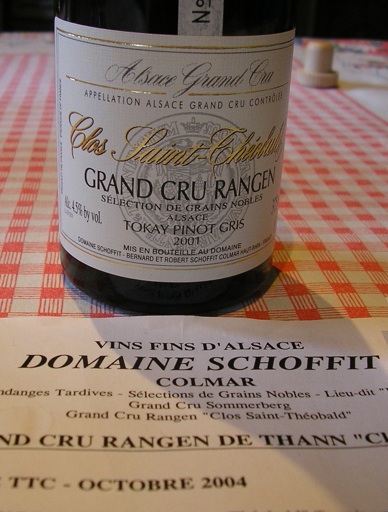 Facts
Key persons
Bernard Schoffit
Address
66-68 Nonnenholzweg, map is needed.
Contact
+33 (0)389 24 41 14
+33 (0)389 41 40 52 (fax)
Price range (2013)
Riesling €7.80
Riesling Rangen Clos Saint-Théobald €32
Style
Powerful, concentrated wines with style.
Reception
Personal and welcoming. Good English.
Terroir
Grands Crus: Rangen, Sommerberg
Lieux-dits: Harth
Selected representative wines 2005
Hidden Treasure
2008 Pinot Gris Tradition
Clean, fresh scent of fruit salad and almonds. Smooth, clean taste with lovely acids that frame the sweetish fruit. Perfect for the dinner table.
Basic Riesling
2012 Riesling Harth Tradition
Elegant, very classic scent with lemon marmalade, apple pie and white raisins. Well built, medium-bodied palate with velvety texture, lovely acidity and a dry, long finish with aftertaste of wet gravel. A wine that stands out!
Top Range Riesling
2010 Riesling Grand Cru Rangen Clos Saint-Théobald.
Large, expressive aroma of coffee, bread, citrus, mineral and dried fruits. Very powerful palate with deep layers of fruitiness, superior spine of firm but mature acids, perfect balance and an endless aftertaste reminiscent of a Burgundy. The term "Schistes" is used when the wines vinified in completely dry style.
Most Exciting Wine
2011 Pinot Gris Grand Cru Rangen Clos Saint Theobald
Monumental, complex aroma with tropical fruits, orange, smoke, cinnamon and toasted nuts. Rich, bold flavor and refresh acids, dense and ripe fruit, great mouthfeel and a finish that never ends. Oh, so good…