Maurice Schoech is a firm that step by step is about to establish itself among the major producers in Alsace. The main reason is, simply, that it year after year produces brilliant Grand Cru Kaefferkopf. Kaefferkopf is Grand Cru No 51, the first official vintage was 2007 and the first sale date was July 2, 2008.
Kaefferkopf is a complex terroir that consists of (at least) two main parts, one marly and on that has a granitic topsoil overlying a marly limestone bedrock. But the important thing is that Kaefferkopf has its own character that can best be described with - lively and complex.
Maurice Schoech is a medium sized firm with 10 ha. It makes quite few wines, the wine list contains "only" 18 different products. The traditional grapes Sylvaner and Chasselas are used for a nice Edelzwicker, but it also makes a wine of Pinot Blanc with a trace of Muscat under the label Côtes d'Ammerschwihr. Most basic wines are made from vines on the plain, are rich and of consistently high standard.
Apart from Riesling and Gewurztraminer from Kaefferkopf - hardly anyone here grow any Pinot Gris - Schoech presents magnificent Muscat and Pinot Gris from Mambourg. Mambourg faces due south and is Alsace warmest terroir. Schoech has demonstrated that they possess the delicate touch needed to master Mambourg so that the wines combine power, acidity and finesse.
The firm's crown jewel, however, is the plot on Grand Cru Rangen, a distinctive volcanic terroir shared with some six other producers. The wine from Schoech is a monolithic, spicy, tough, and profoundly personal wine. It is named Harmoni "R" since it cannot not be sold as Grand Cru Rangen as it is made from Riesling, Gewurztraminer and Pinot Gris from a co-plantation.
Last visit: 2009.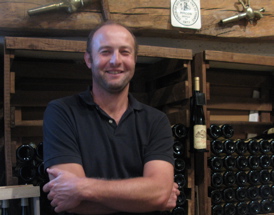 Facts
Key Persons
Sébastien and Jean Léon Schoech
Address
4, route de Kientzheim
Contact
+33 (0)389 80 62 00
+33 (0)389 80 34 23 (fax)
domaine.schoech@free.fr
Price Range (2009)
Riesling Génerique €6
Riesling Grand Cru Kaefferkopf €11
Style
Powerful, fresh wines with balance and finesse.
Reception
Nice and friendly. German but no English.
Terroirs
Grands crus: Kaefferkopf, Mambourg, Rangen
Lieux-dits: -
Representative wines 2009
Hidden Treasure
2008 Muscat
Fresh aromas of passion fruit, red grapefruit and mango, cactus and lemon. The taste is tight, fresh with citrus peels with wonderful elegance.
Everyday Riesling
2008 Riesling
Young grape aroma of vanilla and a creamy sweetness with features of egg flip. The taste is loaded of the young fruit, has good mid-palate and fine ripe acidity.
Top Range Riesling
2008 Riesling Grand Cru Kaefferkopf
A complex aroma of Indian spices, fennel, raspberries and strawberries. The taste is immature but has a deep fruitiness that is juicy and generous, while the acidity is tight and mouthwatering.
Most Exciting Wine
2008 Muscat Grand Cru Mambourg
Deep, rumbling fragrance of nutmeg, passion fruit, rhubarb compote and white currants. Perfectly structured palate with extravagant character of the grape, minerality, power and elegance. My gosh!