There were times when a wine producer could be content and build their business on concepts such as "tradition" and "regular costumers". But those days are gone. Today, is is necessary to have an openness to impulses from outside, profound knowledge of viticulture and vinification, as well as an understanding of what it takes to act on a competitive market.
Domaine Pfister illustrates this development. Here, the younger generation through Mélanie Pfister, born in 1981 and the 8th generation of wine growers, has already taken over after her father André. By the experiences gained during internships at Zind-Humbrecht (Alsace), Méo-Camuzet (Bourgogne) and Cheval Blanc (Bordeaux) she does not only bring new ideas to the family enterprise, but actually contributed to development of the region as a whole.
One should bear in mind that in 1969 there were 11 000 wine growers in Alsace, out of which only 18 had more than the 10 hectares that Pfister has. In 2007, Alsace counted 5 000 growers, and 370 cultivated more than 10 hectares. This means that those that do not grow and develop will vanish in a longer perspective. The generational shift done at Pfister can be seen as model for the structural changes needed in all of Europe's traditional wine growing regions.
The wines from Pfister bear the signs of serious work at all levels. The viticulture is environmentally sound, the vinification is modern and the house style is clear and consequent. Domaine Pfister does not make a big deal about it, but there is not one gram to much of sugar in any of the wines. Instead, all wines are well balances with just the right weight to match the intrinsic properties of the grape material.
The area around Montagne de Scharrach offers wonderful perspectives. Over the landscape, as well as into the future.
Latest visit: 2008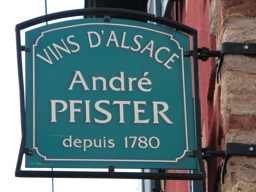 Facts
Key persons
André and Mélanie Pfister
Address
53, rue Principal, Dahlenheim
Contact
+33 (0)388 50 66 32
vins@domaine-pfister.com
Price range (2008)
Riesling Silberberg 7.80
Riesling Grand Cru Engelberg €12.
Style
Skilfully made, dry wines with real character.
Reception
Nice and serious. Good English.
Terroir
Grands Crus: Engelberg
Lieux-dits: Silberberg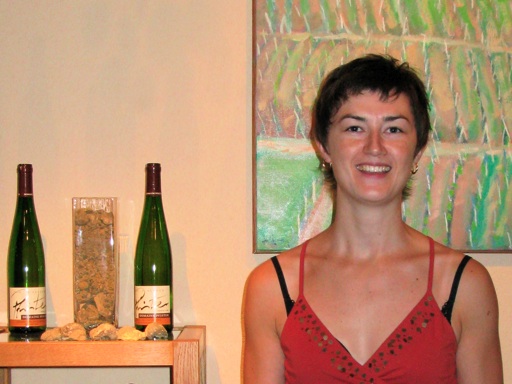 Selected representative wines2008
Hidden treasure
2005 Muscat
Complex rome of sun-drenched peaches, typical 100% Muscat Ottonel. Despite a smooth taste of licorice, the wine has a great backbone, fine structure and fresh acidity. A top wine at a ridiculous price.
Basic Riesling
2006 Riesling Silberberg
Clear, structured aroma of fresh lemons. The very young taste offers various citrus fruits, the acidity is intense but in harmony with the light fruit. Not long, but a very good effort in a difficult year.
Top Range Riesling
2004 Riesling Grand Cru Engelberg
A model wine with typical, but undeveloped nose after four years. The taste is medium full with grapefruit characteristics, and the palate is slowly filled with sweetish fruit flavors. Well done!
Most Exciting Wine
Crémant d'Alsace
With 50% Chardonnay this Blanc de Blanc is crafted in a Champagne style; rich yet firm with chalky and pure aftertaste. Has it all, despite only 5 grams of dosage. Yearly production: 7000 bottles.