Right in the center of Couronne d'Or we find the hamlet Traenheim. Traenheim is an inviting village, situated in a wonderful environment of orchards, fields with vegetables and hilly vineyards. Here, the vines do not dominate the landscape as in many other parts of Alsace, grapes in one of many crops and the majority of vintners sell their produce to the local coop, Roi Dagobert.
However, the Mochel is a striking exception. The firm bursts with progressive ideas and a willingness to develop, with respect to growing methods, product line as well as positioning on the market. Mochel practices ecologically oriented vine-growing, and are members of TYFLO since several years. Moreover, within the traditional range of products, Mochel offers a challenge to all other producers named Trovium, which is latin for Traenheim. Trovium contains Pinot Gris and Pinot Blanc, which are kept separate on oak for several month. The wines is allowed to go through malolactic, which gives the wine a creamy, buttery flavor and balances the tannins from the casks. Trovium also offers a toasty character, just like what one finds in Burgundy.
The firm dates has passed through the generations since 1669, and Mochel has 10 ha an all, out of which 5 ha are on Grand Cru Altenberg de Bergbieten.
Today, young Guillaume Mochel, born in 1979, is responsible for the vinification. The best land is, of course, on Altenberg de Bergbieten, a terroir of marl, rich in lime with some gypsum that gives superb Riesling, Muscat and Sylvaner. The minerality leads the thoughts to two other splendid Grands Crus, Schoenenbourg and Kanzlerberg. The top-of-the-range wine is without doubt Riesling Altenberg de Bergbieten Cuvée Henriette, a powerful, yet elegant wine that may include a hint of black currant, not uncommon in northern Alsace. The muscats are exceptional, showing outstanding character and class, matched by very few in the entire region.
Latest visit: 2008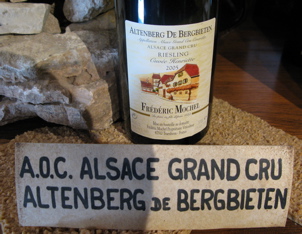 Facts
Key Persons
Guillaume Mochel
Address
56, rue Principale, Traenheim
Contact
+33 (0)388 50 38 67
infos@mochel.net
Price Range (2008)
Riesling €8
Riesling Grand Cru Altenberg de Bergbieten Cuvée Henriette €14.50
Style
Class, complexity and high cellering potential.
Reception
Very friendly, but call in advance - the family works a lot! English works well.
Terroirs
Grands Crus: Altenberg de Bergbieten
Lieux-dits: -
Representative wines 2008
Hidden Treasure
2005 Pinot Blanc
Very nice and pure wine with a trace of cabbage (from Auxerrois?). Firm, medium bodied taste with good concentration, elegance and a zesty acidity that lingers in the finish.
Basic Riesling
2005 Riesling
Almost flowery aroma, which blends nicely with fresh and clear notes of grapes and apples. Very firm taste, where the qualities come from a superb structure, ripe acidity and a good backbone rather than weight.
Top Range Riesling
2005 Riesling Altenberg de Bergbieten Cuvée Henriette
Splendid, first-rate aroma with minerality, honey, citrus and just a hint petrol. Still tight taste, where the juicy fruit combines with a great grip. The finish is very long and classic with awesome minerality.
Most Exciting Wine
2006 Muscat Altenberg de Bergbieten
Complex but very young aroma of crushed dessert grapes, and a trace of minerality. The taste is rather hard at first, offering melon and peach. Although the mid-palate isn't fully filled out (a result of the vintage?), the finish is expansive, supported by remarkable acidity.