Mittnacht-Klack is a relatively young wine domaine, established in the early 1970s. Then members of the family Klack (Riquewihr) with Mittnacht (Hunawihr) were amalgamated. Today the business is run, therefore, of the second generation of the family since the company was established.
The firm's background from two villages explains why Mittnacht-Klack owns land on several of Alsace's finest vineyards in five communes.
In Hunawihr, Mittnacht-Klack has vines on Grand Cru Rosacker and lieu-dit Muehlforst. Muehlforst should not be over-looked, since it is fantastic terroir that always gives Riesling with lovely fruit and structure with a distinct sensation of grapefruit zest on the palate. When Alsace introduces a Premier Cru designation, which will be sooner rather than later, Muehlforst is a given candidate.
In Riquewihr, the firm has land on Grand Cru Schoenenbourg and Grand Cru Sporen, and lieux-dits Oberberg (Pinot Blanc) and Rosenbourg (Pinot Gris). On the fringe of Schoenenbourg grows a Muscat which is really excellent. It is sold as "Cuvée Emma".
The domaine has both Riesling and Gewurztraminer on all of its' three Grands Crus: Rosacker, Sporen and Schoenenbourg.
To these are added Clos Saint Ulrich, located in the valley inside and above Ribeauvillé. Clos Saint Ulrich is Mittnacht-Klacks his own name on their part of lieu-dit Hagel. Hagel is unique in that the micro-climate in the valley is cool, while the vineyard is exposed due south. In addition, the bedrock is special, because it consists of old slate of a type otherwise only found in Andlau, about 40 km north. The Riesling Mittnacht-Klack makes from Clos Saint Ulrich is absolutely bone-dry, hard as rock in its' youth. This is therefore a characteristic of the terroir, and the particular hardness is also reflected in the corresponding Riesling Hagel made ​​by Henri (run by Paul) Fuchs and Louis (run by Etienne) Sipp in Ribeauvillé.
Mittnacht-Klack always has many vintages of each top-range wine for sale. It gives visitors the opportunity to both learn to understand different vintages, but also to discover how the different characters of the terroirs are expressed, year after year.
Even the basic qualities of Mittnacht-Klack are very good, arguably thanks to the inclusion of grapes and must from their best terroirs even in these.
The great diversity means that you can be sure to find the wines you really like, ready for consumption, at Mittnacht-Klack. The style is approachable, the quality is high and prices are at a very attractive level.
Latest visit: 2014.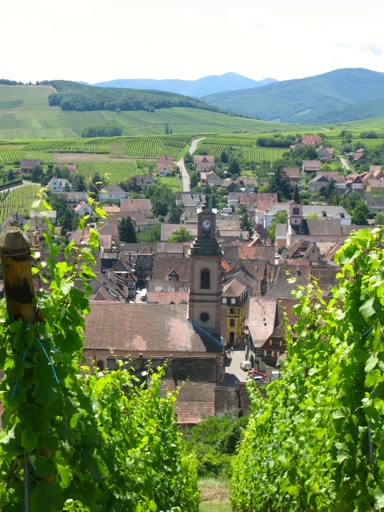 Facts
Key persons
Frank Mittnacht
Address
8, rue des Tuileries, Riquewihr
Contact
+33 (0)389 47 92 54
+33 (0)389 47 89 50 (fax)
info@mittnacht.fr, http://www.mittnacht.fr/
Price range (2014)
Riesling Tradition €6.50
Riesling Grand Cru Schoenenbourg €13.70
Style
Full, expressive wines from many very good terroirs.
Reception
Personal and welcoming. Frank speaks English.
Terroir
Grands Crus: Rosacker, Schoenenbourg, Sporen
Lieux-dits: Muehlforst, Oberberg, Rosenbourg, Clos Saint Ulrich (Hagel)
Selected representative wines 2014
Hidden treasure
2011 Pinot Blanc Oberberg
Generous and fruity aromas of pineapple, mango and pear but also a fine minerality that adds class and character. Medium-bodied and juicy palate with fine ripe acids, good balance and an appealing structure in the finish that provides a backbone. Excellent for almost any type of food.
Everyday Riesling
2010 Riesling Tradition
Typical varietal aromas of citrus, acacia honey and ripe, yellow apples. Barely medium-bodied, structured and balanced flavor where the acid grows in your mouth and gives very good length in the finish. A wine that clearly demonstrates how good the vineyards in and around Riquewihr are!
Top Riesling
2008 Riesing Grand Cru Rosacker
Medium yellow color. Developed aromas of flowers, honey, red grapefruit and a slight sense of wet stones. Powerful taste were some sugar is balanced dry palate with impressive acids, lots of ripe fruit and a long, succulent finish.
Most Exciting Wine
2005 Gewurztraminer Grand Cru Sporen
Deep yellow color. Deep, warm, complex aroma of cardamom, cloves, pickled ginger and vanilla. The taste is smooth and clean with lots of fruit, and really firms acids which supports the soft sweetness to a harmonious whole. A wine that puts Sporens' greatness on display. Very good!