In 1963, the two brothers André and Louis Mittnacht merged their vineyards and formed Mittnacht Frères. Today, the two cousins Christophe and Marc Mittnacht are in charge. Since 1999 the production is biodynamic, and the domain can boast Ecocert certification.
The biodynamic methods should ensure a calm and stable vine that posesses a natural resistance to pests. A vine in harmony will have a moderate yield of mature fruit that gives a must that offers balance and depth. These two virtues characterize all wines from Mittnacht Frères. Each wine forms a complete unity that always has something extra to offer.
Apparently, Mittnacht Frères shows a particular inerest for Pinot Gris. The variety is harvested relatively early in order to retain the freshness and avoid the fungal notes associated with purriture.
Among the Pinot Gris, Clos de la Courtille is special. This wine has spent some time in oak, which gives a somewhat coarse structure and vanilla notes. Arguably, it bears some resemblance with an old Moulin Touchais from the Loire valley.
The Crémant, typically based on 50 % Pinot Auxerrois, 10 % Pinot Blanc, 10 % Riesling, 10 % Pinot Gris, 10 % Pinot Noir and 10 % Chardonnay is very successful and catches good reviews.
Don't miss this welcoming firm that has a glow of friendliness, ambition and competence!
Latest visit: 2007
Facts
Key persons
Marc och Christophe Mittnacht
Address
27 Route de Ribeauvillé
Contact
+33 (0)389 73 62 01
+33 (0)389 73 38 10 (fax)
mittnacht.freres@wanadoo.fr
Price range (2007)
Riesling €7.25
Riesling Grand Cru Osterberg €14.65
Style
Torra, karaktärsfulla viner med djup. Dry wines with character and depth.
Receptions
Vänligt och professionellt. Utmärkt engelska. Welcoming and professional. Perfect English.
Terroirs
Grands Crus: Mandelberg, Osterberg, Rosacker
Lieux-dits: Muhlforst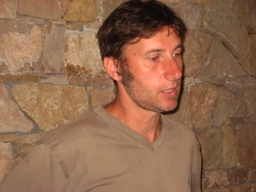 Selected representative wines 2007
Hidden Treasure
2006 Gewurztraminer
Archetypical Gewurtztraminer with a fresh scent of roses. Pure, deep multidimensional taste with a trace of sweetness.
Basic Riesling
2006 Riesling
Young aroma with toffée and the character of apple juice, common in recently bottled Riesling. Good, straight-forward balanced taste. A good effort in a difficult year.
Top-range Riesling
2005 Riesing Mühlforst
Fruity, intense aroma of grapefruit. Deep, firm taste with minerality and rich fruit under a blanket of mouth-watering acidity. A very complex wine from one of the great non-classified growths of Alsace. A personal favourite, despite severe competition form the Grands Crus of the domaine.
Most Exciting Wine
2004 Gewurztraminer Grand Cru Rosacker
Superb, elegant aroma of flowers and candied lime. Silky and elegant, deep and racy taste with layers and layers of complexity.