Based in the charming village of Bergheim, Gustave Lorentz belongs to the group of big houses for quality wines in Alsace. The annual production of Lorentz is 1.8 million bottles, which may be compared with the 0.9 million of Trimbach and 1.5 million of Hugel. 80% of the wines are made from purchased grapes, a relatively high fraction.
Historically, Gustave Lorentz is well known for Gewurztraminer, but that actually goes for Bergheim in general.
The great wines of Lorentz are found on the Grand Cru level. The house owns vines on Kanzlerberg and Altenberg de Bergheim. In addition, Lorentz purchases grapes from 0.3 ha on Rosacker in Hunawihr.
Gustave Lorentz of today was formed in 1972 by amalgamation of Gustave Lorentz with Jérome Lorentz. The former had Altenberg, while the latter was part owner (the other is the Spielmann family) on Kanzlerberg.
The label to the right comes from a bottle of 1947 Riesling Clos des Templier. Clos des Templier is the former name of Kanzlerberg. The name falls back on the building of the Templier that still exists on the foot of Kanzlerberg, on the road to Thannenkirch.
Gustave Lorentz are known for sound, fairly full wines without excessive sweetness. The basic qualities are good, but cannot match what you can seek out at the family domains at the same price.
At the Grand Cru level, Lorentz is very, very good. The terroirs are well expressed; the Rosacker is medium-bodied and full of citrus, the Kanzlerberg is deep and mystifying, while the Altenberg is a seductive charmer. After 7 years in bottle, an Altenberg is velvety with a fragrant aroma of oranges that is draped over a perfectly balances body. Superb!
If you plan on a visit, send an email in advance and ask for some older vintages.
The notes are somewhat incomplete, I was in a rush at my visit to the domaine in 2006.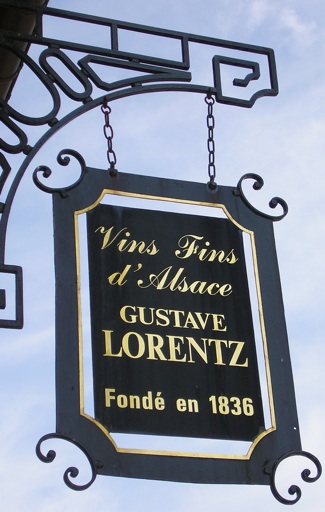 Facts
Key persons
-
Address
91, rue des Vignerons.
Contact
+33 (0)389 73 22 22 (tel)
+33 (0)389 73 30 49 (fax)
info@gustavelorentz.com
Price range (2006)
Riesling Sigillé €10
Riesling Altenberg de Bergheim €14.10
Style
Well made wines that excel on Grand Cru level.
Reception
Professional but not very personal. Solid English.
Terroir
Grands Crus: Altenberg de Bergheim, Kanzlerberg, Rosacker
Lieux-dits: Burg, Rotenberg
Selected representative wines 2006
Basic Riesling
2000 Riesling Sigillé
Pleasant, fully mature Riesling bouquet of petrol, bicycle tube and citrus. Light-bodied taste that is fully mature. Good, but lacks some stamina.
Top Range Riesling
2001 Riesling Grand Cru Altenberg de Bergheim
Soft, aromatic, charming aroma of red grapefruit and superb fruit. Soft, perfectly balanced medium-bodied taste with fresh acidity. A wine that is typical of the house and will continue to develop for a decade.
Most Exciting Wine
2002 Riesling Grand Cru Rosacker
Imposing aroma of apples, grapefruit and candied lemon. A bit petrol is beginning to show. Firm, well-built taste with great bite and under-laying complexity. Only 2000 bottles are produced of this unknown gem.