The house of Leon Beyer is one of Alsace's most important, family-owned wine company. Of course, it is impressive to market some 600,000 to 800,000 bottles a year, of which 80% is exported to at least 50 countries. But there are three things which, in combination with each other, make Leon Beyer quite unique:
The overall quality
The inimitable, super-dry style
The ability to exclusively market wines with some maturity
But let's start from scratch. The Beyer family has been involved in viticulture since the 1580s. The present firm was founded by Emile Beyer in 1867, followed by Leon Beyer I and II, both of which were the mayor of Eguisheim in decades. Today the firm is managed by Marc Beyer and his son Yann-Léon (see picture below).
Leon Beyer owns just over 20 hectares of vineyards in Eguisheim, which - with simple math - means that about 1/3 of annual production is covered thereby. The additional area is made available by owners who for some reason do not want to make their own wine, sell their grapes to the cooperative or act as contract growers. With this arrangement Leon Beyer has full control over the quality of the grape material. Gradually they pursue the transformation towards increasingly environmentally friendly farming, without the ambition to seek certification.
The firm has consistently positioned itself as a producer of "vin de gastronomie ". Thus they make bone dry wines, where the bigger wines require many years to show their full potential. They manage to ferment the sugar in the mature grapes without making the wines high in alcohol and unbalanced. At the fermentation of the wine, it may be difficult to bring down sugar the from, say, 6 grams/liter to 3 grams/liter. To achieve this, Beyer selects and multiplies yeast from an active vat with particularly high microbial activity, which is then used for inoculation of other vats. Thus, they make a completely natural "boost" of local yeast from their own grapes.
Leon Beyer has a huge inventory of wines waiting to be placed on the market. The wines are kept in a large, underground , vaulted brick cellar under constant temperature and optimum conditions. The top wines, Gewurztraminer Comtes d'Eguisheim and Riesling "R de Beyer" (from Grand Cru Eichberg) and Riesling Comtes d'Eguisheim (from Grand Cru Pfersigberg) is 6-8 years when they are released for sale. This has given Leon Beyer a special position in the market, and neither private customers or restaurants need to tie up time, money and space for storage.
Yes, Léon Beyer is a big firm with local standards. The profile is high and international. But the care, pride and commitment is personal, authentic and deeply anchored in the tradition of the family and of the region. And the wines are really, really good.
Latest visit: 2011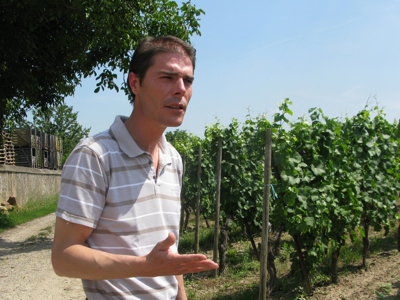 Facts
Key person
Marc and Yann-Léon Beyer
Address
2, rue de la 1er armée (office), and 8 place Château St Léon (tasting room), Eguisheim
Contact
+33 (0)389 21 62 30
+33 (0)389 23 96 63 (fax)
contact@leonbeyer.com
Price Range (2011)
Riesling €10.95
Riesling Comtes d'Eguisheim €23.50
Style
Nice and relaxed. Very good English.
Reception
Very friendly, hospitable and engaged. Fluent English.
Terroirs
Grands Crus: Eichberg, Pfersigberg
Lieux-dits: -
Representative wines 2011
Hidden Treasure
2008 Cuvée Leon Beyer
A blend of Riesling, Pinot Gris, Muscat and Sylvaner. Firm, clean, slightly spicy and complex aroma. Well built, dry palate with a gnice fruitiness that makes an excellent wine for every cuisine.
Everyday Riesling
2009 Riesling
Elegant, mature aromas of yellow apples and citrus. Fresh, well-structured taste of ripe fruit that is embedded in the elegant acids. Rests nicely in the mouth.
Top-range Riesling
2004 Riesling Comtes d'Eguisheim
Developed, complex aromas of minerals, rubber, roasted almonds and a touch of honey. Deep and high-class taste with several layers of fruit, and a firm but not aggressive acidity.
Most exciting wine
2004 Pinot Gris Comtes d'Eguisheim
Lovely scent of orange juice, gooseberry, a hint of botrytis (?) and muskovado sugar. Firm, persistant taste with racy acids, a slighty hot sweetness (from alcohol) and a really long, and chalky finish.