The hamlet of Katzenthal is situated below a ruin castle dating from the 13th century, the landmark Wineck and the Grand Cru Wineck-Schlossberg. Katzenthal was destroyed in the winter of 1944-45 but has been rebuilt into a charming village with genuine Alsace character.
Clément Klur started winemaking under the Klur label in 1999 following a period of partnership with cousin Michael Stoecklé. Clément and Francine Klur have a clear and sympathetic strategy; biodynamic viticulture and active, modern marketing are combined with rental of well-equipped and charming appartments. Oh, I forgot one thing: they really seem to enjoy life and their visitors as well.
Klur has divided the range into three categories. The "Katz" range includes honest varietal wines for everyday consumption. "Klur" denotes wines from grapes picked at a higher level of maturity, including the outstanding wines from Grand Cru Wineck-Schlossberg. The third category includes some odd wines and the most prestigious cuvées, including the Vendanges tardives and the Sélections de grains nobles.
This modern way of targeting the production towards specific segments is still quite unusual in Alsace where most producers would love to make a separate cuvée from each of some 50 plots.
Everything concerning the Klur family and the Klur estate is influenced by anthroposophical ideas. The work and management of the vineyards includes use of certain preparations, spread in the vineyard in homeopathic amounts, ca 4 g/ha. In the cellar, Klur strives for minimum intervention and follows the rythms of nature.
The generous, personally decorated appartments are dominated by soft, earthy and warm colors. Klur offers appartments in Katzenthal as well as in Riquewihr.
In addition, the Klur estate shows a lot of, what Wall Street analysts would call "Corporate Social Responsibility" as Clément and Francine Klur are engaged in social activities far beyond their role as winemakers.
Each day, an aphorism is written with a crayon on a black-board outside the reception. In November 2006, I was struck by: "Le Monde est une rose, respire-la et passé-la à ton ami. ". Translated*: "The Earth is a rose, breathe it in and pass it on to a friend."
Clément Klur does not only make good wines, he also gives you something to thing about and to relate to.
* The Google language tool suggested: "Le Monde is a pink, breathes it and last to it with your friend."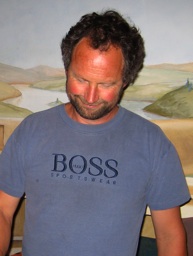 Facts
Key persons
Clément och Francine Klur
Address
105 rue des Trois Epis
Contact
+33 (0)389 80 94 29
+33 (0)389 27 20 17
info@klur.net
Price range (2007)
Riesling Katz €5
Riesling Grand Cru Wineck-Schlossberg €12,60
Style
Pure, well made wines that are full and fresh. More like Stan Getz than Sonny Rollins.
Reception
Lovely, charming with many smiles.
Marker
Grands Crus: Wineck-Schlossberg
Lieux-dits: Hinterbourg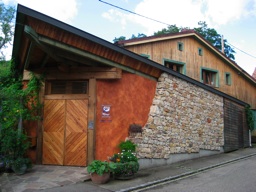 Selected representative wines
Hidden Treasure
Cremant
Fine aroma with apples. Vital, really elegant fruity taste with good bite. Made from Pinot Blanc och Auxerrois. Has, as all Cremant, undergone malolactic fermentation.
Basic Riesling
Riesling 2005 Katz
Uncomplicated, typical aroma with mature apples. Honest, well-constructed taste with sufficient fruit.
Top Range Riesling
Riesling 2004 Grand Cru Wineck-Schlossberg
Fresh and fruity, young aroma with a hint of lavendar. Full, juicy fruit with a touch of young sweetness (at present) that will melt into a superiour structure. A complete wine from a classic vintage. Will develop for a decade.
Most Exciting Wine
Gewurztraminer 2002 Grand Cru Wineck-Schlossberg
Complex, mature Gewurztraminer bouquet of roses and some red apples. Strikingly elegant taste with apricots, figs and some caramel. Very good structure. An excellent effort has resulted in a Gewurztraminer that isn´t the least exaggerated or sticky.