Domaine Kientzler is located in a modern villa by road between Bergheim and Ribeauvillé. They moved here already in the 1970s as the premises in Ribeauvillé were no longer adequate and the building permission in the village was denied. Instead, they took a piece of their vineyards to build a modern facility. Ironically, this would be illegal today, instead it is allowed to build in the village.
The vineyards cover 13.5 hectares, of which just over 4 hectares are on Ribeauvillé three Grands Crus. On Osterberg, Gewurztraminer and Riesling are grown, Geisberg holds Riesling, while Kirchberg is the home of both Muscat and Pinot Gris. At Grand Cru Kirchberg are Auxerrois from old vines are made and sold, slightly disguised, under the name "K". The firm's Muscat Grand Cru Kirchberg is pure Muscat Ottonnel.
Another temptation of Kientzler is a pure Chasselas, a clearly endangered grape variety. Chasselas is a table grape with a pretty thin skin and juicy interior. The alcohol levels are naturally low and, as a drawing in Kientzler's beautifully situated tasting room reveals, Chasselas fits very well as the beverage on a cycling tour.
The wines are distinguished by its purity, complexity and depth. They are never extrovert with respect to their fragrance. Rather, the deep, intense but dry taste is a Kientzler's hallmark. All wines exhibit a minerality bordering salinity. Lovely!
Kientzler bases its reputation on it's Riesling wines. But for anything in the world, do not overlook the firm's Pinot Gris and, above all, Gewurztraminer from Haguenau and Grand Cru Osterberg. They are of very high quality and are certainly food friendly.
In addition, the wines are according to their quality very reasonably priced.
Latest visit: 2013.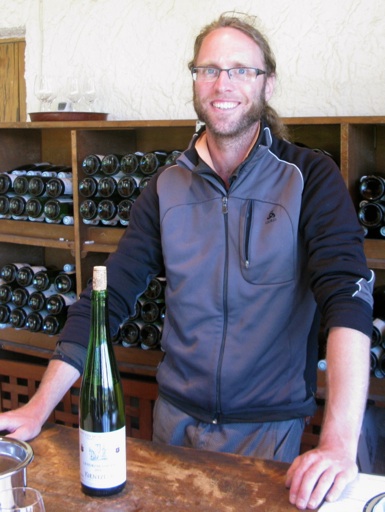 Facts
Key person
André and Thierry Kientzler
Address
50 route de Bergheim, Ribeauvillé
Contact
+33 (0) 389 73 67 10
domaine@vinskientzler.com
Price range (2013)
Riesling €8
Riesling Grand Cru Osterberg €18
Riesling Grand Cru Geisberg €23
Style
Pure and elegant wines of highest class.
Reception
Calm, competent and welcoming. English spoken.
Terroirs
Lieu-dit: Haguenau
Grands crus: Geisberg, Kirchberg, Osterberg
Representative wines (2013)
Hidden Treasure
2009 Gewurztraminer Haguenau
Powerful aroma of spices, lichee and minerals, with almost no hints of roses and banana. The taste has marked sweetness, but is dominated by the lovely saltiness, a wonderful structure and a refreshing acidity. A wine that is typical of lieu-dit Haguenau which is a cold soil on marl, facing east with moderate inclination.
Basic Riesling
2011 Riesling Réserve Personnelle
Generous, attractive and expressive aroma of warm apples, rubber, candy and acacia. Wonderfully fresh taste with rich fruity, firm but ripe acidity and perfect balance. Made of wines from many plots, including young vines at Grand Cru vineyards.
Top Range Riesling
2009 Riesling Grand Cru Geisberg
Intense, complex nose with smoke, mineral and muscovado sugar. Full-bodied but firm palate with youthful acids, many layers of fruit and a long, tight finish. A beauty now, but still a wine that needs some more years to show it's best.
Most Exciting Wine
2009 Muscat Grand Cru Kirchberg
Intense aromas of mint, grape peel, anise and licorice. Sleek, dense palate with nice fruit, great structure and balance leading to a long finish with lots of minerality. Unique!