Philosophy
The producers presented on this site are all worth a visit. They make wines typical of the region, and present wines with special qualities. They have an additional thing in common, namely that they all want to express something though their wines, such as tradition, terroir or their ambtion to bring their wines to perfection.
Although hospitality and convivialié is commonplace in Alsace, small producers that are happy to receive interested and knowledgeable visitors are probably overrepresented in the selection.
All wines have been sampled by myself and someone else, mostly my wife Catarina. This makes the impressions much more reliable than if it had been an effort by a single person.
Before the portraits are published, a few random wines have been tasted at home to verify, or falsify, the impression on site.
Certainly, all tasters prefer certain wines and certain styles before others. However, as an amateur it would be grossly wrongful to criticize or make harsh judgements regarding skilled producers. Of course, we have visited producers where we have decided to refrain from making any comments at all.
The tasting notes have been taken directly from by notebook. The wines presented as Wine of the Week have been tasted at home under comfortable conditions.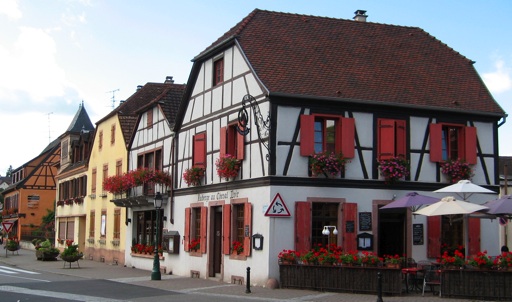 What are we looking for
As obvious, the tasting notes contain very few attributes regarding components in the aroma and the taste, such as specific flowers, fruits, nuts, spices etc. The reason is that the attributes will change between vintages, while the general characteristics of a producers wine of certain grape and a certain terroir is very stable over the years.
The qualities we look for are:
Balance. The wine should have three pillars of matching height; fruit, alcohol and sweetness. The acidity is the arch that connect them and make them support each other.
Dimensions. Aroma and taste should not be one-dimensional but develop in the glass. Every time you bring the glass to the nose o the mouth you should get a new experience.
Grape typicité. Alsace wines are varietal wines and should fall within the boundaries of the characteristics of the grape.
Purity. The nose and taste should be clean. Sometimes, some aeration is needed to get rid of some reductive character, but that is natural.
Terroir character. If the wine is sold a terroir wine, e.g a Lieu-dit or a Grand Cru, one should demand that it reflects that terroir.
Correct price. A wine bought at a correct price taste better than if it is over-priced. In Alsace, however, you stand a huge risk of running into many under-priced wines. Often, this happens at family domains that prefer to sell the wines to perennial consumers without spending any money on marketing.
If you follow in our footsteps
The producers will offer the wines in a certain sequence. Follow their advice. Do not limit the tasting to certain quality levels or certain varieties. Your judgement will be much more reliable if you first learn to know the style of the grower by tasting wines of lesser cuvées. If you commence with the Grands Crus, you are very likely to do severe mistakes.
If they have email, the producers are informed that they appear on this site. Do not hesitate to refer to the website, my experience is that the producers appreciate the attention it brings.
The producers do not expect huge purchases, but for your own sake, be sure to buy a few bottles. Do not leave a quality producer empty handed.