Hugel is one of the most important wine houses of the World. Hugel defines Alsace just as Mouton-Rotschild defines Bordeaux, Antinori defines Chianti and Mondavi defines Napa Valley. To this role, one should add an open, generous and warm-hearted attitude to the visitors and customers.
Certainly, the admirable efforts of Jean Hugel, who passed away in 2009, and now Etienne Hugel (to the left on the photo) on the local, national and international arena have been of deciding importance for all producers in Alsace. Among other contributions, Hugel pioneered the successful introduction of Vendanges tardives and Sélection de grains nobles.
Hugel is a large house with few wines. Hugel has created a range with three levels of quality; Classic, Tradition and Jubilee. The former indicated wines from grapes purchased from contract growers, Tradition is from Hugels own land, while Jubilee are wines from Grand Crus. Om some years, Hugel produces a very full-bodied Cuvée, Hommage de Jean Hugel.
The house is very disappointed with respect the outcome of the delimitations of the Grands Crus, therefore they do not sell their Schoenenbourg (Riesling) and Sporen (Pinot Gris and Gewurztraminer) wines as AOC Alsace Grand Cru.
The house style is very correct and the wines are very well assembled. The impression is that Hugel tries to maintain a very consistent style, regardless of vintage, something in the spirit of the Champagne houses. With the exception of the Hommage-range, the wines give a dry impression. In fact, you get most for the money at the Jubilee level. To my mind, there is a very large leap in level of ambition already between the Classic and Tradition levels, the latter offering much more character for just a little more money.
Nevertheless, the quality of the Classic range has improved gradually in latter year due to increased proportions of grapes from the hillsides in villages south of Riquewihr, rather than grapes from the plains.
The vineyards are managed with great skill by Marc Hugel (to the right on the photo). The yields and quality are carefully managed by careful use of compost, clever trellising methods and canopy management. Marc Hugel apparently knows the characteristics of every square inch of the vineyards. The viticulture of the domaine vineyards is increasingly sustainable, and do not be surprised if Hugel, sooner rather than later, offers a bio-range.
Hugel has a very good website. During the harvest, one can follow how the work progresses. One can then get some understanding of the struggle with the weather, the complicated logistics associated with the vinification of 1.5 million bottles of wine in two months, and - last but not least - the wild boar that invade the vineyards and create huge damage.
Hugel has created an Internet tool to view all their plots, together with the geological map, in Google Earth. Reach it by clicking on the map to the right.
First visit: 2006
Latest visit: 2011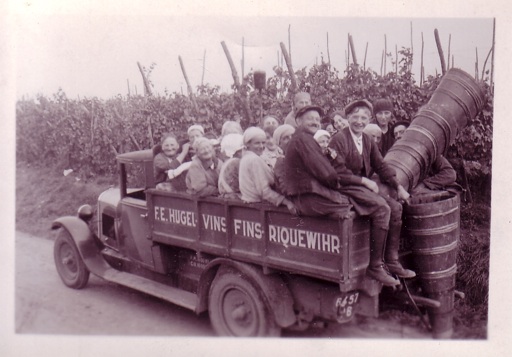 Facts
Key persons
Etienne (market), Marc Hugel (vines and wines) and Jean-Philippe (general management).
Address
3, rue de la première armée along the main street.
Contact
+33 (0)389 47 92 15
+33 (0)389 49 00 10 (fax)
info@hugel.com
Price range (2011)
Riesling Classic €12
Riesling Tradition €18
Riesling Jubilee €28
Style
Classic with balance, character and style.
Reception
Very professional, just as the wines. Perfect English.
Terroir
Grands Crus: Schoenenbourg, Sporen
Lieux-dits: -
Selected representative wines 2011
Hidden Treasure
2008 Pinot Gris Tradition
Fresh, smokey aroma with ripe apricot, almonds and melons. Relatively dry, supple taste with a very fine mid-palate and absolutely clean finish. A superb effort with a perfect definition. The 2008 vintage, 1/3 of the wine went through malo-lactic.
Basic Riesling
2010 Riesling Classic
Youthful, elegant aroma of pears, grapefruit and yellow apples. Straighforward, clean and dry with a nice fruity mid-palate and a refreshing finish.
Top Range Riesling
2005 Riesling Jubilee
Complete aroma of honey,
citron confit
, and the spicey minerality that is the fingerprint of the terroir. The taste is dry with fruit and acidity in harmony, a superb mouth-feel, fresh grapefruit flavours and and outstanding structure. A model Schoenenbourg that is entering its' phase of maturation at 6 years of age.
Most Exciting Wine 1
2009 Pinot Noir "Les Neveuex"
Classy Pinot Noir aromas with cherries, strawberries and shoe polish, in addition to lovely notes of vanilla ned very expensive oak. The taste more than medium-bodied, harmonious and clean with loads of black cherries and supple tannins.
Most Exciting Wine 2
1989 Gewurztraminer Sélection de Grains Nobles
First tasted from cask on a rainy day in February 1990. Now: Perfection and pure pleasure. No words can make this wine justice.