In the world of wine, there is no law of nature that dictates that the largest firm has the most profound knowledge, or the most publicised domain works by the most modern principles.
This is illustrated quite clearly by the firm of Emile Herzog in Turckheim, which goes back to 1686. This exquisite, welcoming and unlikely business covers only 1.4 ha. This means that the annual production amounts to approximately 8000 bottles! The house style is characterised by fruit, freshness, balance and a great respect for the terroir. Every year, the company Emile Herzog receives awards for their wines, by the Guide Hachette as well as at competitions such as Pinot Gris du Monde.
The domaine is housed in an ordinary villa in a modern residential neighbourhood. In charge is Mme A Herzog, widow of Emile Herzog who worked with wine issues at the Ministry of Agriculture, but nevertheless wanted to have one foot left in the "reality". The harvest takes place on weekends during the fall when the two sons can come loose from their jobs. Pressing, ageing, bottling, labelling and storage – everything takes place in the basement of the house.
Herzog has a number of formidable parcels on the Grand Cru Brand, and the central parts of lieux-dits Herrenweg and Langgass. Herrenweg (alluvial, quaternary deposits) is a large and reputable vineyard on the route from Turckheim to Colmar, while Langgass (colluvial calcareous clay on top of alluvial deposits) is located by the road to Wintzenheim. But in addition to these plats, some Gewurztraminer is grown in - the villa garden! One interesting wine of high quality is the Edelzwicker "cuvée Gastronomique", a wine of noble grapes that are pressed together. It has true class, in spite of the simple denomination.
All land is worked using horse and hand plow, just as at Zind-Humbrecht. This method avoids compression of the soil. Mrs. Herzog makes her own compost, and no synthetic substances are used. In addition, the wines are pruned extremely hard, only one last year's fruit-bearing shoots (baguette) is retained!
A visit to Mme Herzog is something very, very special. So are the wines.
Last visit: 2009.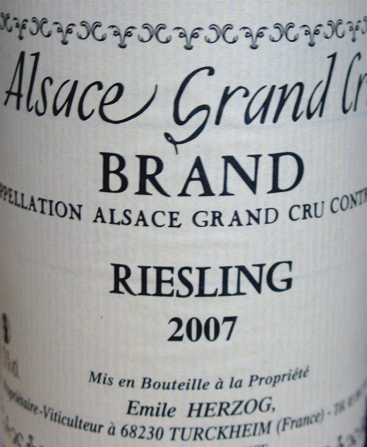 Facts
People
Mme A Herzog
Address
28 rue Florimont
Contact
+33 (0) 389 27 08 79 (tel/fax)
e.herzog@laposte.net
Price Range (2009)
Riesling Langgass € 7.60
Riesling Grand Cru Brand € 12
Style
Extremely elegant, dry wine with excellent terroir character.
Reception
Adorable and extremely knowledgeable. Not English.
Terroirs
Grands Crus: Brand
Lieux-dits: Herrenweg and Langgass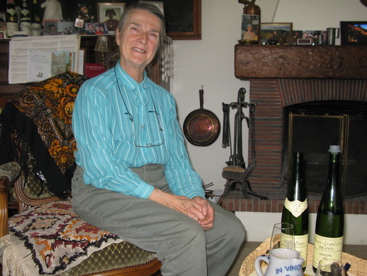 Representative wines 2009
Basic Riesling
2007 Riesling Langgass
Good fruity aroma of apples, honey and citrus. The taste is medium full-bodied and classical with succulent, rich fruit and good acidity.
Top Range Riesling
2007 Riesling Grand Cru Brand
Bold, floral, tight and youthful aroma with raspberry and mineral. Bone dry, very elegant palate with complex fruit and minerality. Need lots of time!
Most Exciting Wine
2007 Riesling Grand Cru Brand
Restrained, elegant and smoky aroma with ripe fruit. The taste is very focused and well structured with zesty acidity, grapefruit and minerality and a total lack of sweet stickiness. A classic example of great Pinot Gris.