A tasting at Rémy Gresser begins with that you get a map of Andlau with the domaines' vineyards and their geology. Because Andlau is perhaps the village with the most complex and varied geology of all 119 wine villages of Alsace, and Rémy Gresser allows the terroir to be expressed in an exemplary manner in all his wines.
What makes Andlau unique is the presence of schist. Schist is a rock that is has flakes and therefore it is normally brittle. In Andlau are two types of schist, both of which are very old, actually the oldest rocks in the entire Alsace, next to the granite of the Vosges. The Grand Cru Kastelberg's "Shiste the Steige" from the Silurian period is about 460 million years old. A little south, at Saint-André, where Gresser makes fantastic Pinot Blanc, we have "Schist de Villé" that dates from the Ordovician 500 million years ago. Schist is fractured, warm and well drained. Therefore, finding its roots and vines down to very great depths, and the grapes ripen with amazing finesse and aromatic richness.
It's very exciting to taste Gressers three Grands Crus next to each other. According to my - far too limited - experience, Weibelsberg gives Riesling with particularly subtle elegance, Moenchberg are classic and solid, while Kastelberg gives a distinctive complexity in an almost smoky style. Gressers different Lieux-dits also have great personality, where Brandhof give very fresh Muscat and different Pinot wines, while Kritt gives an airy and elegant Gewurztraminer.
Rémy Gresser has long experience as president of the organization CIVA, the Conseil Interprofessionnel des Vins d'Alsace, and has thus made huge efforts for Alsace. The members of CIVA are either individual producers, Negociants or cooperatives, and the presidency rotates between these groups of stakeholders. Rémy Gresser thus has much to tell about the business, including the structural and commercial aspects. By the way, CIVA also has counterparts in Champagne (CIVC), Burgundy (CIVB) and Roussillon (CIVR).
Rémy Gresser works organically and biodynamically, has great technical skill and makes wines in a style that combines elegance and aromatic richness. Each wine has personality and feels very natural, never heavy or over-the-top. Furthermore, nothing about the domaine is snobby or pretentious. And although Rémy Gresser puts his wines in the center his efforts are also much about history, culture and a great respect for the earth.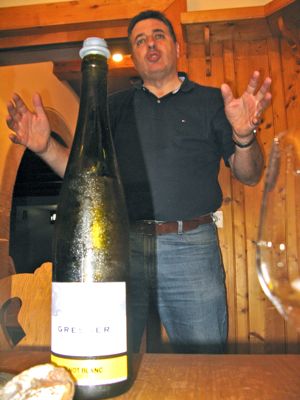 Facts
People
Rémy Gresser
Directions
2, rue de l'école, Andlau
Contact Info
+33 (0) 388 08 95 88
+33 (0) 388 08 55 99 (fax)
domaine@gresser.fr
Price range (2011)
Riesling €6
Riesling Kastelberg €17
Style
Excellent balanced, medium-bodied wine with a clear terroirkaraktär.
Reception
Caring, hospitable and generous. Very good English.
Marker
Lieux-dits: Kastelberg, Moenchberg, Wiebelsberg
Grands Crus: Brandhof, Duttenberg, Kritt, Saint-André
Representative wines 2011
Bargain Wine
2009 Pinot Blanc Saint-André
Amazingly complex nose, with orange, anise and ripe butter-pear. The taste is medium bodied, with elegant fruit, clean and fresh acidity and a suppleness that makes you want more.
Everyday Riesling
2009 Riesling Andlau
Restrained scent with fresh notes of yellow apples, pears and mixed citrus fruits. Elegant, clean, fairly light palate with layers of ripe fruit, lively acidity and a spine that allows the wine to match food perfectly.
Top-range Riesling
2007 Riesling Grand Cru Kastelberg
Complex aroma with flint, smoke, a little petrol and candied citrus fruits. Very elegant, austere palate with powerful fruitiness that is carried by lovely acidity. The taste is very, very long, where the complex of smoky minerality lingers.
Most exciting wine
2008 Pinot Gris Grand Cru Wiebelsberg
Fresh and very complex nose with smoke, white raisins, exotic fruits, roasted almonds and dark chocolate. Well over medium-bodied, rich and dense flavor with absolutely clean fruit and a long, elegant finish with lovely fresh acidity. A charming wine with a great future.