Paul Ginglinger is a typical and classic domaine in Alsace, with goes back to 1610. With 12 hectares of vineyards, it is a pure family business. Since 20000 the domaine is managed by Michel Ginglinger. Michel belongs to a well-educated generation of growers and winemakers, and he has experience from three continents and earned his letters in Reims in the heart of Champagne.
The firm has therefore a long history from the days when the entire region suffered from the armies, financed by the French king, that ravaged the area.
Ginglinger has a surprisingly short list of wines, close to 20 wines are listed. Perhaps it is significant for Eguisheim which has an unusually high proportion of Grands Crus, with Eichberg covering 58 ha and Pfersigberg covering 75 ha. With a total of 354 ha, this corresponds to 37%!
Eichberg consists of two parts, the historic and best-quality portion Eich (where once grew oak) and Bodenacker. The wines from Eichberg combines body and an exotic character with great minerality, probably thanks to the lime-rich marl. Although traditionally a terroir for Gewurztraminer, it is here that Michel Ginglinger grows his spectacular Pinot Noir "Les Rocailles". Although Pfersigberg are calcareous, in this case consists of classic rock, hard Muschelkalk, it is sleeker in style and picks up an irresistible scent of the vineyard itself .
At Ginglinger you get the rare opportunity to try both Riesling and Gewurztraminer from these great Grands Crus, as well as a Pinot Gris Grand Cru Eichberg. Oh, I wish there were a Muscat Grand Cru as well!
Paul Ginglinger has 12 ha vineyard, of which 1 ha is planted with Pinot Noir. On the other 11 ha there is 30% Pinot Blanc/Auxerrois, 23% Gewurztraminer, 20% Riesling, 19% Pinot Gris, 5% Muscat and Sylvaner 3%. The vines have an average age of astonishing 30 years. In addition, some Chardonnay is transformed into a true Crémant Blanc de Blanc.
The production is not certified according to Agriculture Biologique but Michel Ginglinger respects all the rules. He uses no chemical pesticides or mineral fertilisers. The result? Concentrated, balanced wines with great purity and terroir character even in the most modest wines.
When you are in Alsace, you simply must visit Paul Ginglinger. The wines may be summized into: "Bravo!"
One more thing: The name Ginglinger may be pronounced in German as well as in French.
First visit: 2010.
Latest visit: 2011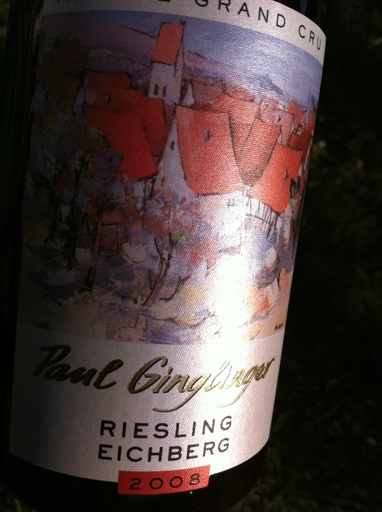 Facts
Key person
Michel Ginglinger
Address
8, Place Charles de Gaulle, Eguisheim
Contact
+33 (0)389 41 44 25
+33 (0)389 24 94 88 (fax)
info@paul-ginglinger.com
Price Range (2010)
Riesling Drei Exa €9
Riesling Grand Cru Eichberg €15
Style
Focused, pure and complex wines with true terroir character.
Reception
Sympathetic, welcoming and knowledgeable.
Terroirs
Grands Crus: Eichberg, Pfersigberg
Lieux-dits: -
Representative wines 2010
Hidden Treasure
2009 Clevner
Complex nose with citrus, flowers, herbs and melons. The taste is powerful but elegant, with solid fruit, supported by fresh acidity. A gastronomic wine which can be served with just about everything!
Everyday Riesling
2009 Riesling Drei Exa
Tight nose, with citrus, apple, vanilla, earth and chocolate. The taste is medium bodied and elegant with silky fruitiness and an absolutely clean, long finish. A "simple" Riesling that rises far, far above the ordinary standard varietal wine.
Top Range Riesling
2008 Riesling Grand Cru Eichberg
Deep golden yellow colour. Extravagant aroma of clementines, pineapple, sweet apricot, acacia honey and wet stones. The flavour is full bodied and intense with excellent structure and spine, while the long finish has a wonderful minerality and is perfectly balanced.
Most Exciting Wine 1
2008 Pinot Gris Grand Cru Eichberg
Deep golden color. Exuberant, complex and pure aromas of chocolate, apricots, honey, ginger and orange zest, and probably 100 more components. Full bodied, fresh and elegant taste with a complete mid-palate, great structure, and a monolitic acidity that most likely will be transformed into a superb minerality once the sugar (25 g/l) has "melted" into this great wine.
Most Exciting Wine 2
2009 Pinot Noir "Les Rocailles"
Dense, spicy aroma of red berries and morello cherries and wonderful vanilla notes of expensive oak. The taste is complete, warm and supple with several layers of ripe fruit and fresh acidity that leads into a long, graceful finish.