Jean-Pierre Frick is not only into biodynamics as a grower and winemaker, the entire atmosphere at the domaine is full of life, harmony and peacefulness. Jean-Pierre Frick turned into organic viticulture in the 1970s, went fully biodynamic in 1981 and has not chaptalized since 1988.
Biodynamic viticulture includes the use of certain preparations. Preparation 500, called "Horn dung", is used to give life to the soil and improve the root-soil interaction, while 501 , "Horn silica" improves the interaction between the foliage and the light. Frick ploughs the soil carefully, uses cow dung every fourth year as the only fertilizer and lets wild herbs flourish in the vineyard during the growing season.
In short, the idea is to give the vine a chance to utilize the soil and the sunshine as much and as naturally as possible.
Jean-Pierre Frick has also produced a few wines without any use of sulphur, including a 1999 Riesling and a Pinot Blanc, a Pinot Noir and Riesling Rot Murlé, all from 2002.
Even if you come to the domaine without an appointment, the tasting is very serious. Frick uses good glasses, and you are first served some water to clear the palate. The tasting is blind, and you will be presented a small booklet with descriptions and the technical data of all wines.
As with most biodynamic producers, the characteristics of the wines span a wide range. My conclusion is that a minimum of intervention results in a maximum of (positive) variability. In addition, Frick keeps the yields low and allows long fermentation times. All wines spend 5-9 months on the lees without stirring.
Jean-Pierre Frick offers wines in the categories Cuvées classiques, Lieux-dits and Grands Crus. But he has also a very exciting range called Cuvée Précieuse. Frick is an expert on Sylvaner.
The style of Jean-Pierre Frick is demanding. The wines have a full taste, superb balance, profound complexity and often a pronounced minerality.
Latest visit: 2005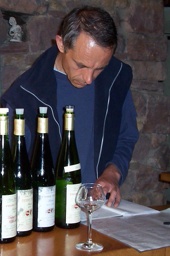 Facts
Key persons
Jean-Pierre and Chantal Frick
Address
5, rue de Baer
Contact
+33 (0)389 49 62 99
+33 (0)389 49 73 78 (fax)
pierre.frick@wanadoo.fr
Price range (2005)
Riesling Génerique €8.40
Riesling Cuvée Précieuse €11.40
Riesling Steinert €11.40
Style
Ecological wines full of character and finess.
Reception
Very serious and warm. Do not expect English.
Terroir
Grands Crus: Eichberg, Steinert, Vorbourg
Lieux-dits: Bergweingarten, Bihl, Rot Murlé, Strangenberg
Selected representative wines 2006
Hidden Treasure
2001 Sylvaner Bihl Cuvée Précieuse
A superb Sylvaner with mature fruit and a complexity seldom found in a Sylvaner. The taste is long end very fresh. Only 2.3 g/liter R.S. and loads of pleasant acidity.
Basic Riesling
2001+2002 Riesling
This, as I have understood it, provocative mix of two vintages show is dry and light on the palate. The bouquet has a hint of prunesand an autolytic character, possibly from the lees.
Top Range Riesling
2001 Riesling Grand Cru Steinert
A complex aroma with some citrus, honey and peaches. The taste is big and powerful with a fair amount of sugar (21 g/liter R.S.) that is balanced by fantastic acidity and exciting minerality.
Most Exciting Wine
2000 Riesling Grand Cru Vorbourg VT
A mellow and mature Riesling aroma in the elegant Mosel style. The taste as some velvety sweetness, not a trace a stickyness and a very long, fresh aftertaste with citrus and dried fruits.