Fréderic Engel is one of the small producers of Alsace, far away from the limelight. They operate in rather modest facilities in Riquewihr, very close to the upper gate. Here, Fréderic Engel, or rather Yves and Alain Engel, sell 80% of the production at the door, most to customers that return year after year to find a very good Riesling Grand Cru Schoenenbourg.
Schoenenbourg is no doubt one of the greatest terroirs in Alsace, and hence in Europe. The geology is very complex. Beneath a thin scree of gravel from the steep, granite mountain range just a stones throw away, the substrate is marl mixed with gypsum. Hence the soil is well drained, calcareous, enjoys a great microclimate but is relatively "cold" in itself. It is the ideal place for Riesling and Muscat.
Fréderic Engel also has vines on Grand Cru Sporen. As several others they produce a Gewurztraminer from this historic terroir, but they also make a small quantity of Riesling. This smoky and exotic Riesling is more Sporen than Riesling, if you see what I mean.
Fréderic Engel makes very honest, correct and fruit wines. The product line varies between the years since the quantities from some parcels may be very small. They avoid malo-lactic fermentation.
The Grands Crus are sold young and, since I have followed the wines for several years, I can assure that they benefit very much from cellaring for at least 5 years.
Alain Engel is a very talented photographer, and be sure to take a look at the magnificent photos on display in the cellar.
Latest visit: 2003. Latest visit: 2013
Facts
Key persons
Alain and Yvan Engel
Address
36, rue des Remparts
Contact
+33 (0)389 47 83 88
+33 (0)389 86 05 08 (fax)
Price range (2013)
Riesling €5.90
Riesling Schoenenbourg €11
Style
Classic but full wines with medium body.
Reception
Very friendly. No English.
Terroir
Grands Crus: Schoenenbourg, Sporen
Lieux-dits: -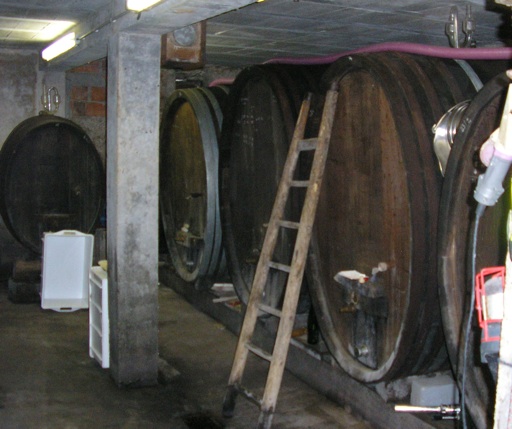 Selected representative wines 2013
Hidden Treasure
2012 Pinot Gris Réserve Personelle
Dense, compact smoky and clean scent of apricot and chocolate. Rich and balanced flavor with nice acids, good balance and a long finish with pleasant grape sweetness. A really well crafted and useful Pinot Gris!
Basic Riesling
2012 Riesling Vielle Vignes
Generous, interesting aromas of honey, apple pie, almond and wet stone. Quite full bodied, powerful palate with high acidity that balances a slight residual sweetness. Made from old vines from the slopes just south of Riquewihr.
Top Range Riesling
2011 Riesling Grand Cru Schoenenbourg
Powerful, spicy, sun-warmed scent of honey, grapefruit, passion fruit and nuts. Rich palate with great depth, grapefruit zest and powerful acids. A wine that must be stored a few years to bring harmony.
Most Exciting Wine
2011 Gewurztraminer Grand Cru Sporen
Big aromas of ripe fruits like mango, banana and orange, spices like cardamom and clove and smoke and a light rose scent. The taste is compact, fresh, not overly powerful with a long and harmonious finish with minerality.