Every visit to Alsace results in an unexpected discovery of a domaine whos wines leads to love at first zip. In 2007, this producer was Camille Braun.
In 1960, the 25-year old Camille Braun decided to make a change from small scale farming to winemaking. The cattle were sold and by 1990, 2 ha of vineyards had grown to 7.5 ha. Since a decade, this charming and genuine family estate is run by Christophe Braun and his welcoming spouse Chantal. After land acquisition in her home village Uffholz, which was totally demolished during World War I, the area under vine is now a full 13 ha.
The vineyards include the classic terroirs of Orschwihr; Grand Cru Pfingstberg, Bollenberg, and Lippelsberg which is a situated on the foot of Pfingstberg by the road towards Soultzmatt. The estate is biodynamic since 2005, expecting formal approval and certification from 2008.
The wines are very good, across the line. They show the depth of flavour so often found in biodynamic wines, and are characterized by superior balance between acidity, body and sweet fruit. In addition, the pricelist give very good information to the customers. For all wines, the content of alcohol, acids and sugar are given and the style is indicated on a 6-grade scale.
Camille Braun sells 75% of the production to faithful costumers at prices that are very low in relation to the quality.
Even more striking is the friendly, relaxed and still very professional atmosphere that meets a visitor. The family, including the young daughters helping out in the cellar, show pride in their work and their wines. And they are more than willing to share it all with anyone who is wise enough to pay Camille Braun in Orschwihr a visit.
Latest visit: 2009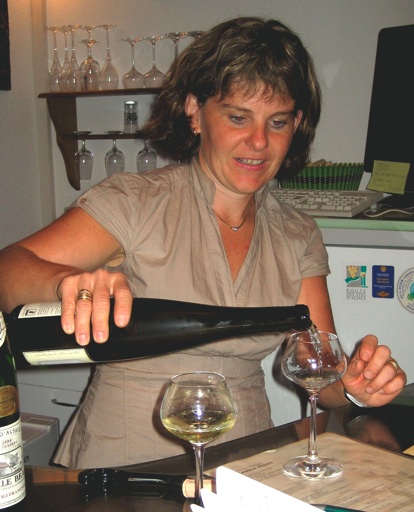 Facts
Key persons
Christophe and Chantal Braun with Marie-Laure Braun
Address
16 Grand´Rue
Contact
+33 (0)389 76 95 20
+33 (0)389 74 35 03 (fax)
cbraun@camille-braun.com
Price range (2007)
Riesling €4.85
Riesling Grand Cru Pfingstberg € 9.20
Style
Fruity, balanced wines with vitality.
Reception
Very charming. Good English.
Terroir
Grands Crus: Pfingstberg
Lieux-dits: Bollenberg, Lippelsberg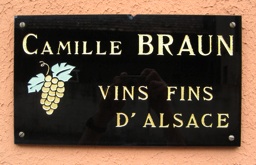 Selected representative wines 2007
Hidden Treasure
2004 Gewurztraminer Bollenberg
Generous, spicy aroma with many dimensions. Elegant taste with notes of roasted hazelnuts, silky fruit and fine acidity. Perfect on the table.
Basic Riesling
2005 Riesling Bollenberg
Classic, young aroma with peaches. Pure and firm taste with fresh fruit and acidity. Feels dry despite 6 gram/liter R.S.
Top Range Riesling
2005 Riesling Grand Cru Pfingsberg
Deep and dense with honey and all the components that eventually will become into a classy and petrolly aroma. A taste with very good harmony, offering a long aftertaste with orange notes.
Most Exciting Wine
2004 Pinot Grand Crus Pfingstberg
Deep, concentrated aroma with a trace of botryris. Very elegant, complex taste that is velvety and very fresh. A wine that clearly demonstrates that Pfingstberg is an outstanding terroir for Pinot Gris.