After a two hour tasting of superior wines from Schneckelberg, Zinnkoepflé and Bollenberg, Agathe Bursin looks at me with a surprised expression:
−Do you want to buy wines? But I have nothing to sell! I though you came her to taste and get to know my wines.
The vintage 2005 was her fifth official recolte. The first year, 2000 she made three unofficial cuvées. Since then the demand for her wines far exceeds the supply.
Agathe Bursin was born into a family of vintners. In 1939, her great grandfather was killed in an accident and the family joined the cooperative after the war. When Agathe was a child, her grandmother let her smell wines and decide if it was dominated by "fleure" or "fruit". In the kitchen, her grandmother made Agathe close her eyes and guess what was put in her mouth. These childhood experiences have contributed to Agathes current interest in flavours and fragrances.
Today, Agathe Bursin has 5,5 ha, including 1.3 ha on Grand Cru Zinnkoepflé. The distribution is 5% Muscat, 15% Pinot Gris, and 20% each of Riesling, Gewurztraminer and her beloved Sylvaner. Agathe Bursin also shows a lot of interest in co-plantation, and the amazing L'As de B is a result of co-plantation on lieu-dit Bollenberg.
Agathe Bursin has been educated in Bourgogne and has worked in the Rhône and in Chablis. In Chablis, she wanted to learn about vinification of white wines. In the Rhône valley, her objective was to learn how to work in steep vineyards and run a small estate with many parcels and several cuvées.
It feels unfair to select just a few "Representative wines". For example, the Sylvaner are just fabulous, not to mention the Muscat...
It is no surprise that Agathe Bursin sells most of her wines before they are even on bottle. And in each wine you can sense the spirit and the determination of this charming, remarkable, and remarkably skilful viticultrice.
First visit: 2006. Latest visit: 2013.
Facts
Key persons
Agathe Bursin
Address
11, rue de Soulzmatt
Contact
+33 (0)389 47 04 15 (tel/fax)
agathe.bursin@wanadoo.fr
Price range (2012)
Riesling Dirstelberg €8,60
Riesling Grand Cru Zinnkoepflé €15,40s
Style
Refined, expressive and full wines.
Reception
Warm-hearted and professional.
Terroir
Grands Crus: Zinnkoepflé
Lieux-dits: Bollenberg, Dirstelberg, Strangenberg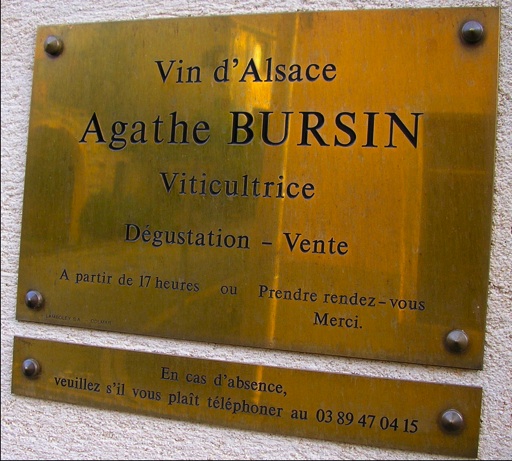 Selected representative wines 2012
Hidden Treasure
2011 L'As de B
Fresh, fruity aromas of white flowers, combined with a bowl of tropical fruits. The taste is almost medium bodied and slightly off-dry, offering generous fruit and charming freshness. Very useful on the table. Although a mix of several co-planted grapes, the wine forms a whole. Price: €6.70.
Basic Riesling
2011 Riesling Dirstelberg
The aromas are youthful and saturated with apples, oranges and a trace of acacia. The attractive taste is medium-bodied, firm and fresh with ripe fruit, fine structure and a well-balanced finish. To call this "basic" is somewhat ridiculous since the standard is very high! Price: 8.60.
Top Range Riesling
2011 Riesling Grand Cru Zinnkoepflé
Very young and big aroma of citrus and apples. Broad, complete taste. The acidity has the special intense character of the terroir, as the very long, fruity aftertaste offers outstanding minerality and salinity. Price: 15.80.
Most Exciting Wine
2010 Pinot Noir Strangenberg
Being one of the top Pinots of Alsace, this deeply colored wine offers aromas of dark cherries, black currents, dark chocolate and vanilla. The taste is silky, with layers of sublime fruit. Not a race of bitterness, but the acidity is unusually high due to the vintage. €15.20.
Most Exciting Wine
2011 Pinot Gris Grand Cru Zinnkoepflé
Seducing aromas of smoke, coffee, oranges and ripe apricots. The taste is full yet refined, sweet yet balanced, and the aftertaste has minerality and superior length. The choice was a toss-up between the Pinot Gris and the Gewurztraminer. Price: €15.80.