Domaine Jean-Claude Buecher makes only one type of wine: Crémant d'Alsace.
Although the demand for Crémant growing steadily, with new sales records every year, sparkling wine is a relatively small portion of each producer's production. Jean-Claude Buecher thus represents a unique exception.
Because Jean-Claude Buecher has chosen his own path. Born into a family of wine growers in the late 1950s, he soon became an orphan. But the mother and teenage children chose to fight on as independent producers, against all odds. And when Jean-Claude in 1980 married Sylviane, also from Wettolsheim, the acreage increased to an economically sustainable level. Strategy - complete specialization - was staked out. Today, the family has 11 hectares spread over four municipalities and vines are owned on three Grand Cru: Hengst, Steingrubler and Pfersigberg.
A crucial factor in making sparkling wine of really high-class, the grape material must be of high quality. There are no shortcuts to take in the vineyard. Since 2005, when his son Franck came into the business with new and revolutionary ideas, the vineyards have been managed according to the same principles as those of the most progressive organic producers.
Two other quality factors is that the wine should be stored a long time on the yeast (sur lattes) after the second fermentation to develop complexity and a fine mousse. In the regulations, the minimum time is twelve months, but Jean-Claude Buecher stores his wines at least two years. Furthermore, the wine should be sold shortly after the degorging, the process by which the dead yeast is removed from the bottle, which then often gets a dosage before it is labelled and sold. At Jean-Claude Buecher the time from disgorging to sale never exceeds four months.
Normally a producer in Alsace makes 20 to 40 different cuvées. As a consequence of the specialization, Jean-Claude Buecher only offers six:
Crémant Brut, made ​​from Auxerrois, Pinot Blanc and Pinot Noir, typically stored three years sur lattes.
Crémant Rosé, made ​​from Pinot Noir from Grand Cru Steingrubler, typically stored two years sur lattes.
Crémant Blanc de Blanc, made ​​from old Chardonnay logs from above the Grand Cru Hengst, typically stored five years sur lattes.
Crémant Fleur de Lys, made ​​from Pinot Blanc from Grand Cru Pfersigberg, typically stored six years sur lattes.
Crémant Paradoxe, made ​​from Pinot Noir from Walbach in the Munster valley and Chardonnay from Rotenberg in Wettolsheim, typically stored eight years sur lattes.
Crémant Irreversible, made ​​from Pinot Noir from Grand Cru Hengst Grand Cru Steingrubler and Bergacker in Walbach, typically stored seven years sur lattes.
Crémant Collection JCB, superb cuvée made for friends and family.
The number of years sur lattes is quite extreme. Eight years sur lattes (as for the Crémant Paradoxe sold in 2014) is on the same level as the most exclusive champagnes from firms like Bollinger and Krug. To one fifth of the price. Moreover, all products carry a vintage designation, and the date of disgorging is carefully indicated on back side label.
Crémant is excellent for almost all food. The combination of acidity, fruit, and volume can be combined with anything from red meat (choose Crémant Irreversible) and desserts (Crémant Rosé) to fish and white meat (all others).
I ran into Jean-Claude Buecher for the first time in the summer 2012 then I rode around in the vineyards above Wintzenheim, Wettolsheim and Eguisheim. I immediately felt that I, by chance, had met a person with great humility, desire, ambition and energy. The pride that Jean-Clause Buecher and his family radiate is justified. Because domaine Jean-Claude Buecher makes incredibly good products, in a completely separate division.
Last visit: 2014.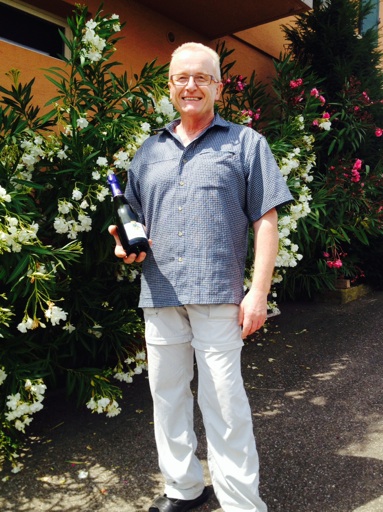 Facts
Key persons
Jean-Claude and Franck Buecher
Address
31 rue des vignes, Wettolsheim
Contact
+33 (0)389 47 96 06
contact@cremant-buecher.fr
Price range (2013)
Crémant Brut €7.10
Crémant Paradoxe €13.20
Style
Highest quality.
Reception
Personal and welcoming. Franck speaks perfect English.
Terroir
Grands Crus: Hengst, Pfersigberg, Steingrubler
Lieux-dits: Rotenberg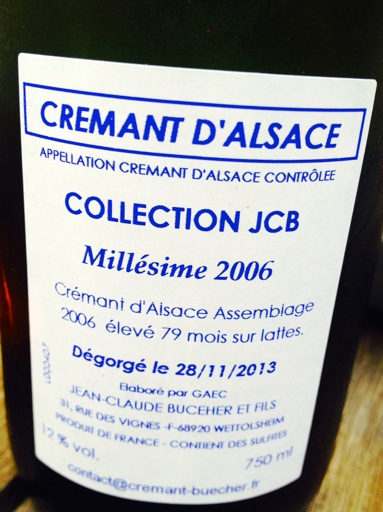 Selected representative wines 2014
Everyday Crémant
2010 Crémant Brut
Greenish-yellow color. Fresh, toasty aromas with lemon and fruit. Medium-bodied palate with good balance between acidity and sweetness (5 grams/liter), ripe fruit and a long finish.
Top range Crémant
2005 Crémant Paradoxe
Greenish yellow color. Expressive nose with citrus, mineral, green apples, brioche and nuts. Intense, complex and very tight palate with lovely fruit, salinity and a clean, deliciously chiseled out finished. Completely dry. Stored over eight years
sur lattes
.
Most exciting Crémant
2004 Crémant Brut on magnum
Yellow. Classic aromas of toast, ginger, honey and citrus. Rich, ripe and elegant palate with fine mousse and powerful aftertaste. Wow!