No domaine in Alsace makes better Rieslings than Albert Boxler. Maybe as good, but not better. Boxler has its' vineyards around the charming hamlet of Niedermorschwihr, as well as in neighboring Turckheim. The production is ecological since many years. All wines carry a code, which is:
10's is Sylvaner
20's is Pinot Blanc
30's is Riesling
40's is Muscat
50's is Pinot Gris
60's is Gewurztraminer
In addition, the various vineyards have their designation:
1 is Grand Cru Sommerberg
B and 2 are Grand Cru Brand
D is Duttenstein, a part of Grand Cru Sommerberg
E is Eckberg, a part of Grand Cru Sommerberg
JV betyder Jeunes vignes, young vines
K is Kirchberg, a part of Grand Cru Brand
Hence, a wine labelled L31D is a Riesling Grand Cru Sommerberg from the section Duttenstein.
Boxler offers a nice and polite welcome, and a quite limited number of wines to taste. However, you will always find irresistible wines sold at correct prices. Because of the international demand, the availability of the top wines L31D, L31E and L32K is quite limited and sales are very restricted.
Boxlers Pinot Blanc "B" for €14 is simply outstanding, in a class of its' own. The taste is right on target, like the fist of a heavy-weight champion. In the wine, there is a peach-laden sensation of fruit and a brutal but mature acidity that blows your socks off. The "stand" Pinot Blanc for €7 is also great stuff. And don't miss out on Sylvaner Vieilles Vignes that is loaded with minerality and character.
The wines from Boxler shine due to their finesse, purity, complexity and … all the other things that characterize great wines. Even better, since Jean Boxler manages to obtain mature fruit in the cooler years as well as to maintain firm acidity the warmer vintages, a Boxler wine will never ever let you down.
Latest visit: 2012.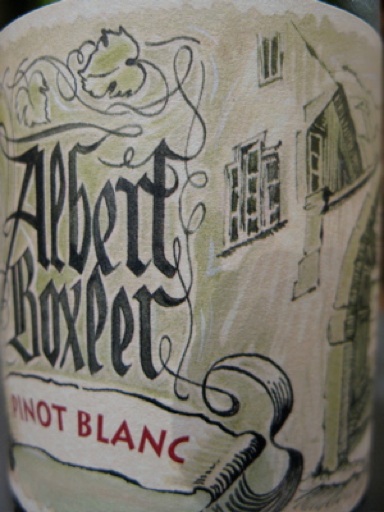 Facts
Key person
Jean Boxler
Address
78 route de Trois Epis
Contact
+33 (0)389 27 11 32
albert.boxler@9online.fr
Price range (2012)
Riesling €12
Riesling Sommerberg "E" €32
Style
Very firm, complex wines of superior quality.
Reception
Correct and welcoming. English spoken.
Terroirs
Grands crus: Brand, Sommerberg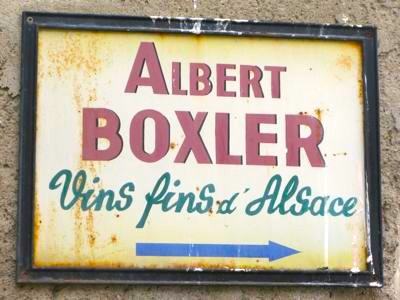 Representative wines (2012)
Hidden Treasure
2011 Pinot Blanc "B"
Powerful, mineral, slightly smoky aroma with raspberries, apricots and spices. The taste is medium-bodied with many layers of fruit, a dense compact structure and vibrant, fresh and pure finish.
Hidden Treasure
Crémant
Based on Pinot Blanc. Deep color that is indicative of several years "sur lattes". Fresh, intense aromas of apples, citrus, bread and coffee. Crisp, medium bodied, almost dry palate with lovely ripe fruit, high acidity and amazing length. Best sparkling wine in Alsace.
Basic Riesling
2011 Riesling
Deep aroma of ripe apples, pineapple, coriander and citrus. The taste is saturated and classic with very good structure and succulent fruit, framed by lovely acids.
Top Range Riesling
2010 Riesling Grand Cru Brand "K"
Extremely complex and interesting aroma with flint, oranges, acacia and spices. The taste is very potent and big, and behind a youthful first impression there are layers of ripe, smooth fruit that is supported by a wonderful backbone of tart acids. A wine that requires some age, and will live to the middle of this century. At least.
Most Exciting Wine
2008 Gewurztraminer Grand Cru Brand Vendanges Tardives
Incomprehensibly dense and complex aroma of botrytis, ginger, cinnamon and discrete flowers. No trace of blowsiness here! The taste is youthful and fresh with super acidity, a big but fully integrated acidity and impressive length. An overwhelming experience that move the boundaries for what a sweet wine can be.