Beblenheim is a bit forgotten and remote village, although it is less than half a mile from D1, which in practice is the Route des Vins d'Alsace. During World War II, the neighbouring t village Mittelwihr was totally destroyed, but Beblenheim escaped without severe injuries. In the village there are plenty of narrow, cosy streets and typical half-timbered houses from the Renaissance.
The village hosts 11 wine producers, including one cooperative. A lot of very good wines are made in Beblenheim, not least from the Grands Crus Sonnenglanz and Schoenenbourg, but the only bright star is Bott-Geyl. But what a star!
The firm Bott-Geyl was formed in 1953 and since 1993 it is led by Jean-Christophe Bott. He was just a few and 20 years old when he, after training in both the New World and in Burgundy, took over the operation. During the strong influence of his mentor Leonard Humbrecht the production was changed to organic and biodynamic principles, and certifications came in the early 2000s. The domaine has 14 hectares (13.4 to have white grapes) divided into 75 plots of seven municipalities. Some 5 ha are on Grands Crus.
Domaine Bott-Geyl have turned up with a clean, fruity but classic style with a striking minerality in all wines. Wines from earlier editions could may have been a bit to juicy for some, and malo-lactic fermentation may have had some impact. But today the wines are not just good, they exhibit great personality, unusual depth of flavour and astonishing minerality.
Bott-Geyl is mostly associated with Gewurtztraminer from Beblenheims own Grand Cru Sonnenglanz which, together with Gewurtztraminer Grand Cru Furstentum, gives domaine high luminosity. Among Riesling Grand Cru, Schoenenbourg is of impressive quality, but the new acquisition Grand Cru Schlossberg, where the first vintage is 2008, also is also very promising. A real "wild card" is, moreover, Pinot Noir Apolline as to 2/3 grows on Sonnenglanz, the rest comes from Lieu-dit Schloesselreben.
Bott-Geyl has divided its' range of wines into three categories. The lowest is Les Elements, then there are four lieux-dits and top wines are Grand Crus from fine different terroirs. But the quality gap between the levels is still relatively small, mainly because all wines are so well made that no wine falls out of context.
Bott-Geyl has two, very affordable wines made of more than one grape variety. One is dominated by Pinot Blanc and is in crisp style. The other, Les Pinot d'Alsace Metisse ,is made on all authorised grapes of the Pinot family. This sympathetic and very well-made wine is 1/3 Pinot Blanc and 1/3 Auxerrois, while the balance consists of Pinot Gris (which gives volume) and Pinot Noir (which gives fresh aromas of red berries). As with Laurent Barth (in Bennwihr) the word "Metisse" refers to the fact that the wine is blended, or - in a figurative sense - that it is of mixed race.
Bott-Geyl is a striking example of how progressiveness and tradition come together in today's Alsace. Furthermore, prices are still at a very reasonable level. So there is no excuse for not getting to know this genuine family domain.
Latest visit: 2010.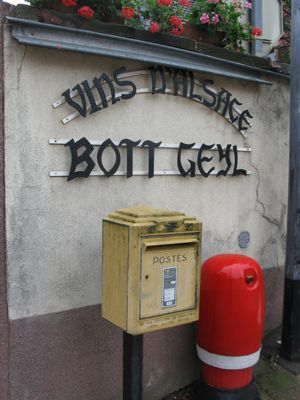 Facts
Key person
Jean-Cristophe Bott and Valerie Bott-Cartier
Address
1, Rue du Petit Château, Beblenheim
Contact
+33 (0)389 47 90 04
+33 (0)389 47 97 33 (fax)
info@bott-geyl.com
Price Range (2010)
Riesling Les Élements €10
Riesling Grand Cru Schoenenbourg €21
Style
Complex, powerful and sophisticated wines of highest standards..
reception
Friendly, hospitable and professional.
Terroirs
Grands Crus: Furstentum, Mandelberg, Schlossberg, Schoenenbourg, Sonnenglanz
Lieux-dits: Burgreben, Grafenreben, Kronenbourg, Schloesselreben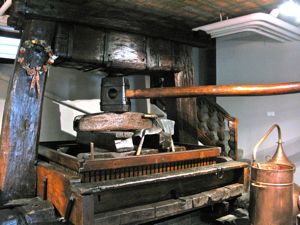 Representative wines 2010
Hidden Treasure
2006 Les Pinots d'Alsace Métiss
Honey-scented, strong aroma which - in this vintage - is dominated by Pinot Gris. Clean, balanced, fruity, with nice minerality, despite the modest pedigree. Extremely well-made!
Everyday Riesling
2007 Riesling Kronenbourg
The aroma is restrained and young with white pears, ripe apples and a low-key spiciness. The taste is very young with layers of dense fruit, high but ripe acids and monolithic salinity in the aftertaste. A wine with lots of potential.
Top Range Riesling
2008 Riesling Grand Cru Schlossberg
Deep golden colour. Distinctly fruity aroma with peaches and pineapple and some rubber. Very potent taste with good structure, lots of tropical fruit and high and clean acidity. Long, dry aftertaste despite 10.5 grams of residual sugar. This wine should be given a period of at least 10 years in the cellar.
Most Exciting Wine
2008 Gewurztraminer Les Élements
Complex aromas of banana, ginger, butter, almond, orange and a restrained aroma of the flower bed. The flavour is focused and inviting, fruit packed, harmonious and with a touch of bitterness paired with a salinity one rarely finds in a Gewurztraminer. Bravo! This is not the domaines' most prestigious Gewurztraminer, but certainly the most versatile.