Beck-Hartweg in Dambach-la-Ville is one of the historic domaines of Alsace, that builds on a tradition of winegrowing goes all the way back to 1590. Since a few years the responsibility is carries by Florian Beck-Hartweg, born in the late 1980's. In just a few years, Florian has gained a solid reputation among lovers of Alsace wines as a skilled, progressive and communicative respresentative of the future of Alsace.
Beck-Hartweg has a mere 5.5 ha, out of which 1.5 ha is on Grand Cru Frankstein. Frankstein covers 56 ha and is divided into four separated, but very similar, south-facing parts. The bedrock is granitic and the soils are sandy, well-drained and heats up readily. In comparison with other granitic Grands Crus, it is most similar to Wineck-Schlossberg as it capable of giving gives elegant, low-key, fruity wines with purity and superior acidity.
Florian Beck-Hartweg makes his wines in the vineyard. The overall strategy is to create a balanced vineyard with low vigour vines, biodiversity and natural yield reduction. The results are impressive: the range of wines is very consistent, all wines have superb minerality and are true models of their kind.
Florian avoids botrytis, thus the Pinot Gris are exceptionally pure and crisp. Florian has also demonstrated that is is possible to make very good Pinot Noir on light-weight granite, and his top red wine (called "F" as a reference to Frankstein) offers a complex mix of spices, almonds and black fruit depite the fact that it has not been near new oak.
If you see yourself as a serious lover of Alsace wines, Beck-Hartweg should be one of your first stops in the region.
Latest visit: 2010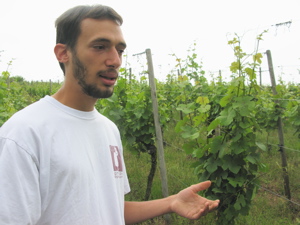 Facts
Key person
Florian Hartweg
Address
5 rue Clémenceau, Dambach-la-Ville
Contact
+33 (0)388 92 40 20
florian.hartweg@laposte.net
Price Range (2010)
Riesling Cuvée Prestige €6.60
Riesling Grand Cru Frankstein €9.50
Style
Elegant, well-balanced wines.
reception
Very friendly, hospitable, engaged and welcoming. Fluent English.
Terroirs
Grands Crus: Frankstein
Lieux-dits: -
Representative wines 2010
Hidden Treasure
2008 Auxerrois
Generous, spicy, broad, oaky aroma with yellow apples and bananas. Fat, round, slightly "hot" taste with good structure from the oak, richness and a touch of salinity.
Everyday Riesling
2008 Riesling Cuvée Prestige
Attractive, classic fragrance with citrus, apple and a spicy pepper. The taste is solid and tight with elegant fruit.
Top Range Riesling
2006 Riesling Grand Cru Frankstein
Fairly developed nose with nuts, honey and pineapple. Relatively rich taste with minerality, length, elegance and structure and a long and elegant finish.
Most Exciting Wine
2007 Pinot Gris Grand Cru Frankstein
Focused aroma with clementines, smoke and star anise. The taste is medium bodied with a fresh attack, nice acidity and a classy minerality that expands on the palate. Right on!