In 2009, during my first visit to Laurent Barth, it is 10 years since he began building up his own small-scale, organic, and highly appreciated domaine. For over 12 years, young Laurent had worked in vineyards in France, South Africa, USA, Australia and - lo and behold - India (which is revealed if we look carefully at the label)
Returning 1999 shall be the time to take over the cultivation of the family's only 3.5 have vineyards. Until 2003, he was bound to deliver the entire crop to the large co-operative across the street - Bestheim. As the delivery requirements have decreased his own production has risen. The demand for Laurent's wines is very strong, and he is highly classified by, for example, La Revue du Vin de France. Despite the positive publicity and the minimal production, the ratio of quality to price is remarkably low.
The area has increases slowly and includes a small parcel on the Grand Cru Schlossberg. This plot was planted with Riesling with very high density, as much as 11 000 vines per hectare. A large share of the vineyard is on the Grand Cru Marckrain. Marckrain is a Grand Cru which used to be totally dominated the Bestheim. Fortunately, this promising terroir ha been revived thanks to young talented producers, in addition to Laurent Barth also Fabien Stirn, Etienne Simonis, Jean-Léon Schoech and Michel Fonné (Barth René).
The year 2007 brought a disaster to the villages Bennwihr, Sigolsheim, and Mittelwihr as hail destroyed up to 90% of the grapes in some vineyards. Laurent Barths wines from 2007 are largely from grapes bought from other growers, either "solidarity grapes" or grapes bought on root during the month of July. Despite these problems, Barth has in an impressive manner succeeded in creating an excellent collection of superb 2007s with stunning qualities and terroir characteristics.
Laurent Barth is a bit of cult. The quality is remarkably consistent, but each one carries a creative and idea which that makes them very engaging and personal. Great stuff!
Last visit: 2009.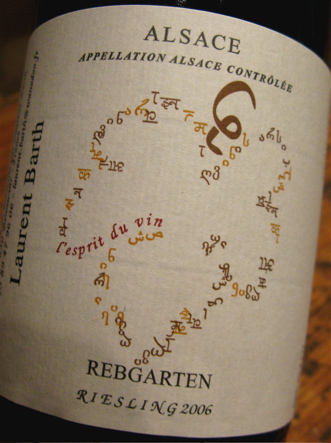 Facts
Key Persons
Laurent Barth
Address
3 rue de Maréchal de Lattre
Contact
+33 (0)389 47 96 06
laurent.barth@wanadoo.fr
price Range (2009)
Riesling €8
Riesling Rebgarten €9
Style
Dry, flavourful and precise wines with elegance and character. Succeeds with everything.
Reception
Very friendly and hospitable, but appointment is necessary. Good English. .
Terroirs
Grands Crus: Marckrain, Schlossberg
Lieux-dits: Rebgarten
Representative wines 2009
Hidden Treasure
2008 Racines Métisses
The complex, almost fat fragrance with notes of honey and citrus. Very good taste with nuts and apples, crisp acidity and fine length. A brilliant assemblage for a only € 5. (Racines = roots, Métisses of mixed breed)
Basic Riesling
2007 Riesling Eguisheim
Great scent, bursting of all fragrance components (terpenes), which belong to Riesling: grapefruit, flowers, honey and earthiness so typical for Eguisheim. The flavour is generous, juicy and tight, with trace of bitterness that gives character to the long aftertaste. Great!
Top Range Riesling
2008 Riesling Schlossberg
Fresh, fruity but closed due to bottling only 5 days before the tasting. Well composed, powerful but balanced taste of ripe fruit. Elegant, clean, smooth and precise.
Most Exciting Wine
2005 Pinot Noir
Deep, restrained spicy fragrance of Seville oranges, liquorice and spices. The flavour is "cool" and stylish with elegance, moderate fruitiness and fresh acidity. Offers ripe fruit and ripe tannins in the finish. Pure Grand Cru Marckrain that has undergone maceration for 10 days.