Barmès Buecher deserves to serve as a symbol for the modern and progressive Alsace.
Barmès Buecher is a relatively large domaine with 16,37 biodynamic hectares, spread over 4 communes; Wettolsheim, Wintzenheim, Turckheim och Eguisheim. Some 2 hectares of the Barmes Buecher estate is on prime Grand Cru terroir. However, the volume is more moderate due to low yields. As an illustration, the Pinot Blanc Rosenberg (made partly from Pinot Beurot!) of Barmes Buecher is made at a rediculously low 43 hl/ha, slightly more than 50% of legal yield. But then, the power, concentration and complexity are is outstanding.
The domaine Barmès Buecher was founded as late as in 1985 and is run by Geneviève Barmes, born Buecher. Sadly François Barmès was victim of an accident in 2011. At Barmes Buecher, biodynamic since 1998, the team carefully exploits the potential of the terroirs and expresses the unique feature of each plot in a sensitive and skilful manner. One example of the Barmes Buecher style is the Pinot Gris from Rosenberg that has been separated into one cuvée from a calcareous soil ('Calcarius') and another one from the granitic parts ('Silicis').
Barmès Buecher also offers a Crémant that has spent an extended periods 'sur lattes' and where the date of the degorgement is indicated on the label. But more exciting is the strategy employed by Barmes Buecher for the vinification. In Champagne, sugar is added at three steps; the chaptalisering, the addition of sweet 'liqueur de tirage' and finally in the 'dosage'. But Barmès Buecher works it the other way around; he harvests at 13% potential alcohol but stops the fermentation at around 11.7% alcohol and 22 grams/liter residual sugar. Thereafter, the second fermentation (on bottle) is started using the natural fructose, leaving enough sugar to cover up for the dosage. Brilliant!
For me, there is no doubt that Barmès Buecher, based on the overall quality, deserves a place on any Top-10 list of Alsace producers. If the price is taken into the account, even fewer could match Barmes Buecher!
But if one, in addition, considers the reception, the joy, the pride and the respect shown to visitors, then there is no doubt that if you have not learned to know Barmès Buecher you have not learned to know Alsace of the 21st century.
Latest visit: 2008.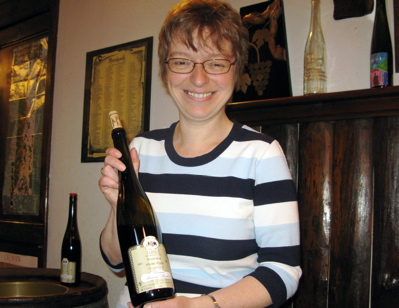 Facts
Key Persons
Geneviève (Buecher) Barmès with children.
Address
30, rue Sainte Gertrude, Wettolsheim
Contact
+33 (0)389 80 62 92
barmesbuecher@terre-vin.fr
Price Range (2008)
Riesling Herrenweg €10.50
Riesling Grand Cru Hengst €22.80.
Style
Very firm, aromatatic and focused wines of highest quality.
Reception
Inviting and fun, yet serious. English spoken.
Terroirs
Grands Crus: Hengst, Pfersigberg, Steingrubler
Lieux-dits: Clos Sand, Herrenweg, Leimenthal, Pfleck, Rosenberg
Representative wines 2008
Hidden Treasure
2002 Pinot Gris Silicis
Fat, dense, exotic aroma of honey (without a trace of mushrooms). Medium bodied, elegant taste dominated by minerality, fruit and crisp acids and a very long aftertaste.
Basic Riesling
2005 Riesling Herrenweg
Very elegant, lemony, not fully developed aroma. Classic, very dry first taste that develops into fruit with oranges and a trace of bitterness on the finish.
Top Range Riesling
2004 Riesling Grand Cru Steingrubler
The very fresh nose is dominated by intense honey notes, white flowers. The taste is huge, driven by fruit but with a profoundly complex structure and supreme minerality. A young wine with immense potential.
Most Exciting Wine
2002 Pinot Noir Veilles Vignes
The nose is a dream with fruity, peppery aroma with black cherries and vanilla from new barriques. Round, firm and balanced, medium bodied taste with dark plum, cherries and silky tannins. My gosh – what a wine!