Domaine Agapé was established as late as 2007 in the outskirts of Riquewihr. Here Vincent Sipp makes excellent wines, receives its visitors with great kindness and care, selling fine wines at very realistic prices. What more could you ask for?
Agapé is located is the southern part of Riquewihr, in spacious and functional facilities that combine tradition with modernity. In addition to spacious storage areas and a pleasant testing room, it has several apartments that are rented out at reasonable price. A perfect starting point if you want to live comfortably right in the heart of Alsace.
Much has been written about Vincent Sipps earlier, multi-year partnership in Hunawihr before he established Agapé. In itself the history is uninteresting, but maybe the unexpected establishment of Domaine Agapé contributed to the company's very modern way of operation. The wines are technically flawless, the terroirs are expressed in the best way and the product line is consumer friendly.
The product line consists of five parts. The, in terms of volume, most important is called Expression which includes seven varietal wines of Sylvaner, Pinot Blanc etcetera. All wines are dry. For example, the Pinot Gris and Gewurztraminer have less than 10 grams of residual sugar per liter, which is very moderate.
The flagships are obviously the three Grands Crus: Osterberg in Ribeauvillé, Rosacker in Hunawhir and Schoenenbourg in Riquewihr. Geologically, these brilliant vineyards and very different in terms of Riesling wines express Vincent Sipp all those chips in a textbook manner. But perhaps even more exciting is that Sipp addition, Pinot Gris Grand Cru Osterberg and - even rarer - Gewurztraminer Grand Cru Schoenenbourg. If you get the chance, you should definitely try – and buy –  these wines!
In addition to the lines Expression and Grand Cru you should definitely not ignore the firm's Crémant and the red wines made from Pinot Noir. Of the latter the version aged in barrel has a beautiful color and an aroma of carrots, coffee and bitter orange with a crispy, fresh flavor, dense fruit and firm tannins.
In summary: At Agapé Vincent Sipp makes high quality and modern wines that express and respect all what we love in Alsace!
Latest visit: 2013.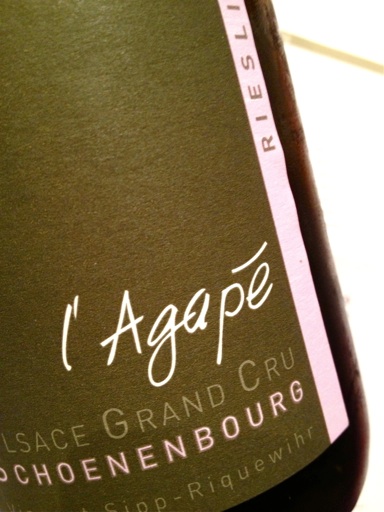 Facts
Key person
Vincent Sipp
Address
10 Rue des Tuileries, Riquewihr
Contact
+33 (0) 389 47 94 23
www.alsace-agape.fr
Price range (2013)
Riesling €9,50
Riesling Grand Cru €16,80–18,40
Style
Supple, balanced wines on the dry side.
Reception
Welcoming, generous and knowledgeable. English.
Terroirs
Grands crus: Osterberg, Rosacker, Schoenenbourg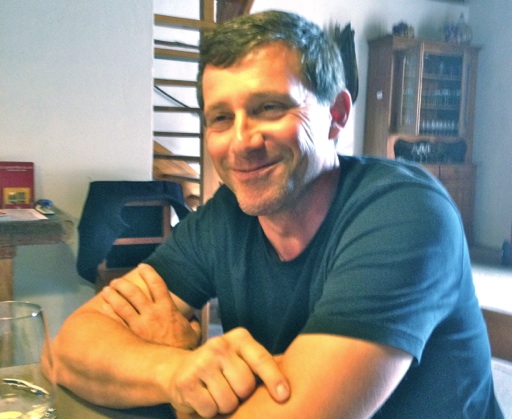 Representative wines (2013)
Hidden Treasure
2011 Sylvaner Expression
Completely clean, slightly spicy scent of flowers and pears. Fresh, very dry taste with body and balance, and a little bitterness in the aftertaste. An honest wine which reveals the winemaker's great skill.
Basic Riesling
2012 Riesling Expression
Powerful, typical varietal aroma of yellow apples, Basset Allsort (chocolate and licorice) and raspberries. Dense, medium-bodied taste with a wide range of flavors, good punch, integrated and adequate acidity and the long finish.
Top Range Riesling
2010 Riesling Grand Cru Schoenenbourg
Complex, yet undeveloped, fragrance with forest honey, grapefruit, passion fruit, toasted walnuts and a little spicy botrytis. The palate is medium-bodied and dry with grapefruit zest, rich fruit, excellent acidity and a long, seductive finish. Impressive!
Most Exciting Wine
2011 Pinot Gris Grand Cru Osterberg
Golden yellow color with green tints. Powerful aromas of cherry, white raisins, apricots and mangoes. Gorgeous mouth-feel, caressing the palate with ripe fruit, nice but not exaggerated sweetness and firm and balanced finish. Exciting wine from a vineyard best known for Riesling.