The Wines of Alsace by Tom Stevenson
ISBN: 0-5711-4952-9 (hardcover), 0-5711-4953-7 (paperback), Pages: 600
Publisher: Faber, 1993
Very hard to find, keep an eye on Amazon.com
This is the Bible about Alsace wines. Tom Stevensons monumental effort covers almost every aspect related to teh wines of the region, with the exceptions of travel tips and gastronomy.
In terms of style, it is an encyclopedia telling a story. It is loaded with wit and wisdom. Stevenson conveys clear messages about what he thinks is god or bad, right or wrong.
Each of the 119 villages, except Uffholz, are described in a remarkably detailed manner. He presents all Grand Cru and hundreds of growers. The book was published in 1993 but the the portraits of the growers are still valid today. This shows Stevensons ability to capture the essence of Alsace wines, but also that the domains remain faithful to a style and a strategy over several decades.
You must own this book!
---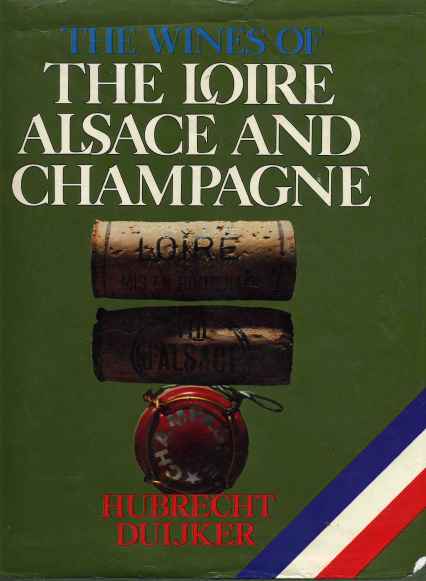 The wines of the Loire, Alsace and Champagne av Hubrecht Duijker
ISBN: 0-517-418169, Pages: 200, Binding: Hardcover
Publisher: Crescent Books, 1981
Easy to find via used book web-sites
Hey, how can a book from 1981 be worth reading?
Hubrecht Duijkers first book on Alsace is, as the other books in the series, a perfect armchair companion to the region. The beautiful design and the authors enthusiasm catches the reader immediately.
The photographs provide a great documentation of Alsace in the late 1970s, a little less wealthy, a bit more primitive but utterly charming.
The design is top-notch, the upper part contains labels and comments on wines from producers still active. The wines tested range from 1974-1979, but who cares?
A must for the true lover of Alsace wines and its history.
---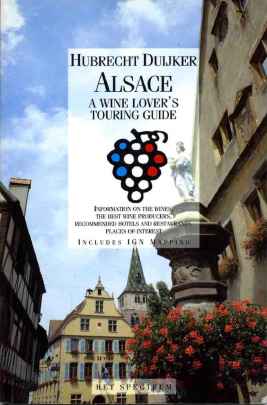 Touring in Wine Country: Alsace av Hubrecht Duijker
ISBN: 1-8573-2581-8, Pages: 136, Binding: Paperback
Publisher: Mitchell Beazley, 1996
Often available on Amazon.com
Hubrecht Duijkers second book on Alsace could have been the perfect guide book. The structure is logical, each important village has its own page covering producers, restaurants, lodging and sights to see. The style is compact but easy to read.
Unfortunately, the descriptions of the producers do not suffice, verdicts such as "Excellent Muscat and Pinot Gris, try the Riesling" is of limited help at best.
It appears as 1/3 of the text comes from his Duijkers first book on Alsace, 1/3 from Tom Stevenson while the balance was gathered during a few occational stop-overs.
---
Terroir - The Role of Geology, Climate and Culture in the Making of French Wines by James E. Wilson
ISBN: 1-84-0000333, Pages: 336, Binding: Hardcover
Publisher: Mitchell Beazley, 1998
Can be ordered from Amazon.com
James E. Wilson is a retired geologist. He fell in love with France in Normandy in 1944, oddly enough. This monumental piece of work must be a dream come true and a once-in-alifetime effort for an author in love with wine, geology and France.
The book is easy reading even for persons with no background in science, although such experience helps. The section on Alsace provides a solid description of how the terroirs of Alsace were formed. The geological maps of teh heart of Alsace. From St Hippolyte to Sigolsheim can keep the reader busy for days.
Unfortunately, the graphics and maps contain some errors regarding the exact location of certain Grand Crus, but that is easily forgiven.
---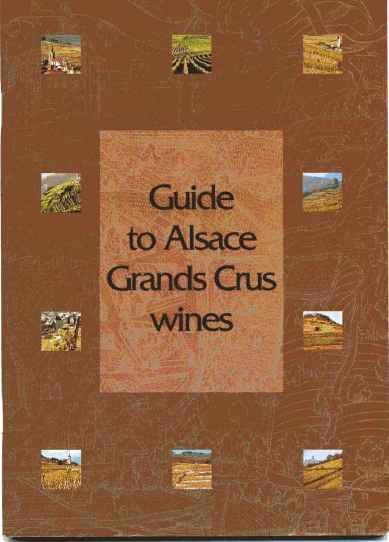 Guide to Alsace Grand Crus wines
ISBN: ,Pages: 54, Bindning: Häftad
Förlag: Centre d´information des vins d´Alsace, Colmar
Available at producers and tourist offices
CIVA has issued a nice booklet covering the 50, or 51, Grands Crus of Alsace. The list of Grands Crus of this web-site provides links to web-pages with essentially identical material.
Each vineyard has its own page with a map, data, geology, history and characteristics. The latter is the weakness. As CIVA must be politically correct and not run the risk of creating some form of unofficial ranking of Alsace Grands Crus, the characteristics given are typically "The terroir is very good for all grape varieties and the wines age to obtain unmatched finesse".
Many growers will offer you the booklet for free. Grab it!
---