Pinot Noir is, with Cabernet Sauvignon, the Worlds' most important grapes for red wines. But while Cabernet Sauvignon builds its' reputation on a unique ability to give great wines under many conditions in several regions, Pinot Noir is extremely picky and elusive.
Indeed, Pinot Noir is primarily associated with Bourgogne, in particular Côte de Nuits but also Côte de Beaune. Great wines from Côte de Nuits is higher prices than any other wines; the good wines start €20-50 while the "Mystery Wines" from the likes of Romanée Conti, Clos de Tart and Perrot-Minot easily top €150.
In addition to Bourgogne, fine Pinot could be found in New Zealand, USA and not the least Pfalz (the Palatinate) in Germany, where producers such as Philipp Kuhn have the gift and skill to express the greatness of Pinot Noir on a regular basis.
It may be easy to forget that Côte de Nuits builds its' reputation on vineyards located along a narrow strip of perfectly exposed and perfectly drained, unique terroir of limestone and marl from Jurassic times. These strata have been exposed by "accident", some 30 million years ago. Furthermore, the landscape is concave, trapping all the sunshine and creating a unique micro climate that relies on the fact that the hills to the west moderates the rainfall.
Nowhere on Earth can we find anything similar. Except in Alsace.
Pinot Noir in Alsace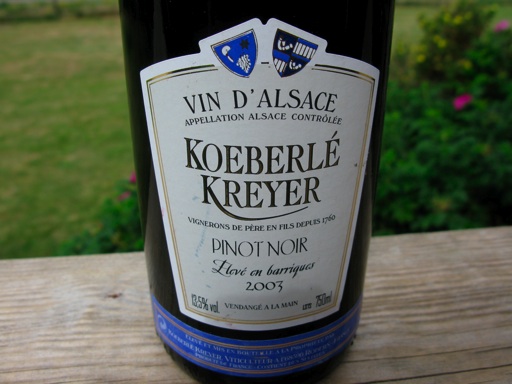 In Alsace, Pinot Noir is grown on 9.6% of the area. The fraction tends to increase as the quality and the temperature increases. Pinot Noir is used extensively for Crémant but also for white wines, where it may be used for Pinot Blanc. Even "Blanc de Noir" can be found but should normally be avoided. Furthermore, Pinot Noir is used for light rosé wines that do will at the BBQ on warm summer evenings.
Even if good Pinot Noir can appear unexpectedly in any village and at any producer at any time, there are two sectors with a solid reputation for Pinot Noir. The northern one includes the villages Rodern and St Hippolyte. Here, the Grand Cru Gloeckelberg, with its' warm, dark and relatively heavy soil on a granitic bedrock is top terroir for Pinot Noir. The second, southern sector includes Pfaffenheim, Rouffach and Westhalten with the Grands Crus Vorburg and Steinert.
Ferment first – press later
Vinification of red wines does, as we all know, differ between red and white wines. While grapes destined for white wines are taken directly from the vine to the press, grapes for red wines ferment with peels, seeds and some of the stems. Pressing is done after some days. This phase is called maceration and lasts for 5-15 days in Alsace. The alcohol produced extracts flavors, tannins and color from the peels. The time for maceration is determined to give the right balance between the fruit (from the must) and the structure (from the skins etc.).
During the fermentation, the temperature is ca 28 C, i.e. about 10 degrees higher than when white wines are vinified. In addition, the malo-lactic fermentation takes place along with the alcoholic fermentation, simply because the pH of the must from blue grapes is high enough to allow it.
After pressing and final fermentation, the wine is transferred to steel tanks, large oak barrels (foudres) or small barrels (barriques), depending on level of ambition and the potential of the young wine.
The quality of Alsace Pinot Noir: Version 1
A comparison with great Pinot Noir from Bourgogne makes it obvious that top-notch Pinot Noir is not produced in Alsace. Despite the favorable climate and superb geological pre-disposition, the wines lack "it". Bearing the risk of generalizing to much, the aroma of Alsace Pinot Noir is a bit shy lacking some spice, iron-ness and "boiled vegetables", so typical for Bourgogne. The taste tends to end up on the tannic side, masking the fruit we all think is there.
The quality of Alsace Pinot Noir: Version 2
Just as all other wines for Alsace, Pinot Noir are normally very well crafted and reasonable priced. Not even the most expensive Pinot Noir from top names such as Marcel Deiss, Muré, Weinbach, Barmes-Buecher or Paul Blanck top €30. At this price level, disappointment is the name of the game in Bourgogne. Even at €10-15 Jean-Pierre Frick, Agathe Bursin, Laurent Barth, Becker, J B Adam, Clément Lissner and others present Pinot Noir for the table that reach far above standard Bourgogne from the negociants in Beaune. Furthermore, you will not run into the jammy, cooked stuff that pours out of the New World.
The future
Climate change will, if the water supply is enough, improve the possibilities to grow serious Pinot Noir in Alsace. Already, we see how producers buy prime and affordable vineyards on calcareous terroirs in the north, e.g. on Grand Cru Steinklotz in Marlenheim.
But the big moves must come from the authorities. One action would be to allow alternative training systems such as Cordon de Royat, which reduces yields in relation to Guyot. It is also necessary to open for production of Pinot Noir as a Grand Cru. In that case, Pinot Noir could replace Pinot Gris and Gewurztraminer on superior land where those grapes will find it to warm in 20-30 years, anyway. With these actions, Alsace will get a chance to reach the levels of quality that Germany has shown possible..