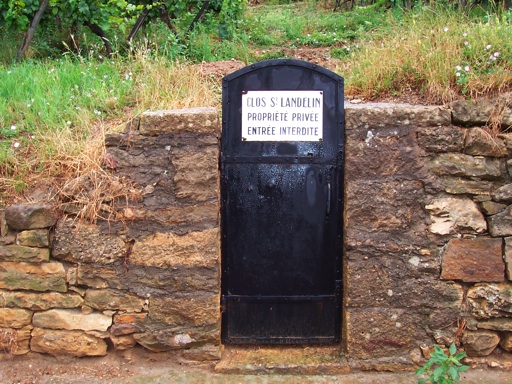 There are two alternative roads if you are about to travel from Rouffach into the Vosges mountains. However, be sure to take the old road that follows the northern side of the valley. The road passes Grand Cru Vorbourg with the beautiful door into Clos St Landelin. Vorbourg is a part of Strangenberg that stretches all the way up to the village Westhalten.
On the west side of Westhalten we find the imposing Grand Cru Zinnkoepflé. With its' peak at 420 meters, it reaches higher than any other of the 51 Grands Crus of Alsace. Zinnkoepflé has a unique and characteristic, violent acidity that provides the backbone to Gewurztraminer, but also puts a requirement on Riesling to mature for at least 5 years. Between Strangenberg and Zinnkoepflé there is a geologically unique formation, a strain of sandstone rich in lime, that runs from south to north along the wester rim of Westhalten.
Many growers in Westhalten have land on Zinnkoepflé, but also on Bollenberg towards Orschwihr and the Vallée Noble. While Bollenberg is famed for glorious Gewurztraminer, Vallée Noble offers firm and long-lived Riesling for all occations.
Westhalten hosts some 15 small producers, many very skillful. Scout for charming wines among them, but avoid the huge and boring coop Bestheim, once formed in a merger of the caves ccoperatives of Bennwihr and Westhalten.
Producers to visit
Agathe Bursin, 11 rue de Soultzmatt, +33 (0)389 47 04 15
One of the comets in the skies of Alsace since 2000. The wines from Agathe Bursin are full-bodied, concentrated, aromatic, clean, balanced etc. etc. Unfortunately, the production is small, the production is virtully sold before it is even on bottle.
Éric Rominger, 16 rue Saint Blaise, +33 (0)389 47 68 60
Very serious producer with land on Grands Crus Saering and Zinnkoepflé and lieu-dit Schwarzberg, from which a superb Riesling is produced. Rominger went biodynamic in 2005 and aims at low yields on the level of 40 hl/ha. Makes very good Pinot Noir, but in fact every wine from Rominger will please you!
Diringer, 8 rue de Rouffach, +33 (0)389 47 01 06
Firm with a long history in the village. Makes a solid and typical Riesling Zinnkoepflé sold at very, very reasonable price.
Léon Boesch, 6 rue Saint Blaise, +33 (0)389 47 01 83
Important and reputed producer, building on 11 generations of winemakers. The Boesch family (Gérard, Mattieu, Colette, Marie and Marie-Anne) owns 13 hectares of vineyards, out of which 2,5 is on Grand Cru Zinnkoepflé. Works with sensible viticulture, slow pressing (5-12 hours) and long fermentation 'sur lie'.