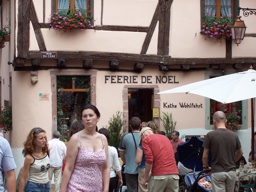 For a moment, let us forget that Riquewihr is one of the most exploited villages of Alsace. Instead, let our thoughts go to Grand Cru Schoenenbourg, from which the most exciting wines of Alsace are made. Already Voltaire owned vines on this south-facing slope, that has the most complex geology of all Grands Crus in Alsace.
Most producers in the village have vines on Schoenenbourg, as well as on Sporen. The latter, situated between Riquewihr and Mittelwhir, is the home of magnificent, smokey Gewurztraminer and complex Pinot Gris. A Riesling from Sporens is more Sporen than Riesling!
In addition, many growers own vines in neighbouring villages.
The main street of Riquewihr is Rue Charles de Gaulle. Here, busloads of tourists stroll up an down, day by day, all year round. Despite the touristic chracter, which was already present in 1984, the atmosphere is true to Alsace. Riquewihr deserves a place on the UNESCOs list of cultural heritages, despite the utterly misplaced Christmas utility store.
Producers to visit
Hugel et Fils, 3 rue de la Première Armée, +33 (0)389 47 92 15
No single estate has meant more to Alsace than Hugel and the legendary Jean Hugel. The range wines is divided into Classic, Tradition and Jubilee, the latter being from Grand Cru terroirs. All wines are well made and full of class. Although the tasting room is, deliberately, small the staff is very professional indeed. Today, the globetrotter of Hugel is Etienne, spreading as much joy as the wines.
Mittnacht-Klack, 8 rue de Tuileries, +33 (0)389 47 92 54.
Jean and Frank make wines of high quality with super terroir character from Schoenenbourg, Rosacker, Muhlforst. Seek out the granitic St Ulrich. Splendid and rare Muscat Schoenenbourg. Good apartments.

Agapé, 10 rue de Tuileries, +33 (0) 389 47 94 23.
A company with top class dry wines in a friendly style. Here everything tastes delicious! Owner is Vincent Sipp who founded the company after that he left Sipp-Mack Hunawihr in 2007. The prices are very moderate considering the excellent quality.
Fréderic Engel & Fils, 36 rue des Ramparts, +33 (0)389 47 83 88.
One of Alsace most well-kept secrets. The brothers Alain and Yvan markets a dense Schoenenbourg at a price well below what it is worth (€ 11, 2013). They have Gewurztraminer and small quantities of Riesling from Sporen, and a serious Pinot Gris Réserve Personelle. The wines are sold out of very simple premises. Alain is an exceptionally gifted photographer.

Charles Sparr, 8 avenue Méquillet, + 33(0)389 47 92 14.
An exciting company experiencing rapid progress. Many exciting wines from several municipalities. By marriage the relations will be (2013) strengthened with a biodynamically oriented producer in Wettolsheim. Very exciting!
Jung, Roger et Fils, 23 rue de la Première Armée, +33 (0)389 47 92 17.
Roger Jung has a complete set of good terroirs. Well worth seeking out, although my experiences from two tastings are much less favourable than others. I may be wrong (but I doubt it).