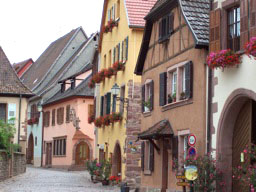 Of all the medieval villages in Alsace, Riquewihr may be the most touristic, Eguisheim the most decorated and Mittelbergheim the most calm, but Geuberschwihr is certainly the most genuine.
Geuberschwihr is a charming villages to which too few visitors find their way. The village is situated on a plateau on the spectacular road connecting Husseren-les-Chateaux, Voegtlinshoffen, Geuberschwihr and Pfaffenheim. Do not miss the church, built on oak pillars, though of as more stable than a stone foundation.
The pride is Grand Cru Goldert that carries a very good reputation for both Riesling and Muscat. In addition, Zind-Humbrecht makes an excellent Gewurztraminer from this 45 ha vineyard. The microclimate is favourable as Goldert is tucked into the protecting Voges. Goldert hosts Clos Saint-Imer, a 5 ha property owned by Ernest Burn.
Geuberschwihr is more than a wine village, as it has nurseries and other businesses related to agriculture. Until the 1960´ it was common that winemaking was only one component of the farming, and combined with production of vegetables, milk, eggs.
The vintners of Geuberschwihr has a joint cooperative with Pfaffenheim.
Producers to visit
Ernest Burn, 8 rue Basse +33 (0)389 49 20 68
One of the big names in Alsace, offering a generous, refined yet powerful style of wine. Clos St-Imer is sold at very reasonable prices (€15 2006). The best cuvées are called "La Chapelle" and posses eternal life. Today, the estate is run by Joseph and Francis.
Jean-Bernard Humbrecht, 10 place de la Mairie, +33 (0)389 49 31 42.
Sympathetic family estate located at the square. Carefully crafted, fresh wines from Goldert, vinified without malo-lactic fermentation. Mme Humbrecht speaks perfect English.

Marcel Humbrecht, 21 rue Basse, +33 (0)389 49 31 47.
Just across the street from Ernest Burn.
Claude & George Humbrecht, 33 rue de Pfaffenheim, +33 (0)389 47 31 51.
Hard-to-find grower who has made success with a classic Gewurztraminer. On the road towards Pfaffenheim.

Maurice Schueller, 17 rue Basse, +33 (0)389 49 31 80.
Old family domaine with connections in Husseren-les-Chateaux and Eguisheim. Run by the young couple Marc and Catherine, the estate has 5 ha, some of which are on Goldert.