Labels and designations of Alsace wines
On the surface, the designation system in Alsace is very simple. However, if you scratch the surface the clarity immediately vanishes. In France, the producers must always find a balance between:
The EU rules
What is sanctioned in legislation
What is tolerated within France
What they want and/or need to do on the market
What they actually do
The following discussions and examples takes its starting point in the following divisions:
| | | | | |
| --- | --- | --- | --- | --- |
| Level; | Designation | Number | Typical area | Example |
| Region | Alsace | 1 | 20 000 ha | |
| Special area | Common name | A few | Many 100 ha | Côte de Rouffach |
| Municipality | Commune | 119 | 100-500 ha | Hunawihr |
| Vineyard, Lieux-dits | Historic delimitation | Many 1000 | < 100 ha | Muhlforst |
| Vineyard, Grand cru | Legal delimitation | 50 | < 80 ha | Rosacker |
| Clos | Part of vineyard | Dozens | < 10 ha | Clos Ste Hune |
---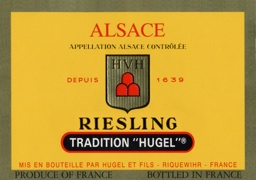 Regional level
The starting point is that there are two AOC for still wines, AOC Alsace and AOC Alsace Grand Cru. Here, the simplicity ends.
The labels exhibit a huge and confusing flora of names that may specify the brand name of a certain product and/or some indication of the level of quality within a producers range. Examples of the former include "Les Princes Abbés (Schlumberger) and "Fleurs de Printemps&quot (several producers). A well known example of a system indicating quality is the one used by Hugel. The ladder is Hugel Classic (purchased grapes), Hugel Tradition (domaine grapes) and Jubilee Hugel (Grand Cru Schoenenbourg).
Other common designations include Réserve, Réserve personelle and Cuvée X, where X is the name of a charming child of the family or a dead ancestor.
---
Delimited area
In Alsace, there is nothing similar to the German Bereich-system or the Californian "Valley-system". However, a few designated areas, sometimes stretching across more than one commune have received the blessings of INAO.
One example is Côte de Rouffach. This designation may be used for AOC wines from Rouffach, Pfaffenheim and Westhalten. The minimum must weight is set slightly higher than the normal level. Only Pinot Noir (at 65 hl/ha) and the four noble grapes (at 72 hl/ha) are allowed.
Another designated area is Val-St-Grégoire which includes Walbach, Wihr-au-val and Zimmerbach in the Munster valley. Val-St-Grégoire is used for the lovely Pinot Blanc of the area, marketed by CV Turckheim and others.
---
Commune
The current legislation states that commune designation are only allowed if the designation is specifically pointed out. For Alsace, it is not enough that the 119 villages of Alsace are named in the definition of the AOC.
The label to the left is not legal. Commune designations could only be admitted if it is already established and commonly in use (which would be illegal, but this obvious contradiction does not cause any concern).
In the future we will se many combinations of commune and variety, for example "Gewurztraminer de Bergheim", "Riesling de Wolxheim", "Pinot Noir de Rodern", and "Pinot Noir de St:Hippolyte". The big difficulty is to define which parts of the vineyard within a village that should not be allowed to carry commune designation. This will be the big difficulty in the future and create tension among growers in the villages.
---
Lieux-dits
Every single vine in Alsace grows on land that has been named since generations. In Alsace, there are thousands of such names, many of which are found on the Blue Map issued by IGN, Institute Geographique National which can be bought in all large stores. At the office of the Maire, even more detailed maps can be found.
The label shows a good example of how a named site is indicated. Even if they are not officially defined, they are tolerated by INAO. The growers can discuss the unique virtues of the different Lieux-dits for hours and you can always trust the label.
Several Lieux-dits are as good as many Grands Crus. Top-notch Lieux-dits include Herrenweg (Turckheim), Fronholz (Epfig), Windsbuhl and Muhlforst (Hunawihr), Rotenberg (Winzenheim) and Bollenberg (Orschwihr). Some Lieux-dits give birth to classic blended wines. One example is Zahnacker in Ribeauvillé. It gives a blend of Riesling, Pinot Gris and Gewurztraminer, marketed by CV Ribeauvillé.
---
Grand Cru
A Grand Cru wine should carry a label that states that it is a AOC Alsace Grand Cru and it should indicate the name of the vineyard.
Each Grand Cru wine is tasted by an INAO panel, the first time in June the year following the vintage. If it does not pass the sensory or the chemical analysis, the producer gets another two chances to submit the wine. If it fails three times, it will be declassified.
Special rules apply to three Grand Crus:
Grand Cru Kaefferkopf can be sold as single variety wine or a mix of 40-60% Gewurztraminer, 10-40% Riesling and 0-30% Pinot Gris.
Grand Cru Altenberg de Bergheim can be sold as single variety wine (not Muscat) or a mix of 50-70% Riesling, 10-25% Gewurztraminer, 10-25% Pinot Gris and a maximum of 10% totally of Chasselas, Muscat, Pinot Noir or Pinot Blanc if planted before 26/3 2005
Grand Cru Zotzenberg may be made from Sylvaner and Riesling, Gewurztraminer and Pinot Gris but not from Muscat.
Several producers make wines from Grand Crus that are not possible to sell under vineyard designation. Important examples are Josmeyer Auxerrois "H&quot (Hengst), Clos St Landelin Pinot Noir (Vorbourg) and André Kientzlers Auxerrois "K" (Kirchberg).
---
Clos
In Alsace you may encounter the word Clos. The word means "enclosed vineyard" and is more common in Bourgogne. These vineyards often have a long history, much longer than the Grand Cru-system, and can be very strong brand names for certain producers.
Some important examples:
Clos Ste-Hune is a part of Grand Cru Rosacker (Hunawihr). It is the the most long-lived, and arguably best Riesling of Alsace and hence one of the worlds best white wines.
Clos Gaensbronnel är is a part of Grand Cru Kirchberg de Barr, and gives a very good Gewurztraminer, put on the market by Willm.
Clos St-Imer is a part of Grand Cru Goldert where Ernest Burn makes wines of class from all noble varieties.
Clos St-Landelin is part of Grand Cru Vorbourg, owned by Muré, and arguably the best terroir in Alsace for Pinot Noir.
Clos St-Theobald and Clos Saint Urbain are parts of Grand Cru Rangen, owned by Shoffit and Zind-Humbrecht respectively
Clos de Capucins is vineyard on the alluvial plain around the premises of Domaine Weinbach between Kientzheim and Kaysersberg. Unfortunately, a neck wrapper with the name Clos des Capucins is also put on all Grand Cru wines by Weinbach, adding to the confusion.
---