More and more producers switch to environmentally friendly viticulture and wine-making. Alsace is also a forerunner in France, and more than 10% of the area is now certified according to some environmental standard.
One can also observe that the majority of the most prominent producers have some form of certification. Of the 16 producers in 2011 that had three or two stars of La Revue du Vin de France, is 10 domaines are or is about to become certified (Marcel Deiss, Albert Mann, Ostertag, Weinbach, Zind-Humbrecht, Bott-Geyl, Dirler-Cadé, Josmeyer, René Muré and Martin Schaetzel).
Agriculture biologique
The official term Agriculture biologique , or AB, refers to a system of farming based on natural processes and biogeochemical cycles that aims to maintain high bidiversitet above ground and in the soil. The semanthic construction Agriculture biologique is a bit strange given that all cultivation is biological. Rather, one often hears winemakers say that the production is en bio. The term Agriculture biologique was protected in France in 1980, followed by EU regulations, that is direct-acting laws, in 2007 and 2008 (to see the text of the law, click here)
AB implies restrictions by prohibiting:
Fertilizer such as NPK and ammoniumnitrate.
Chemical pesticides, including herbicides (weed killer), insecticide (against insects) and fungicides (for fungal infections).
Genetically modified crops (GMO).
The the fertilizer is substitution by the addition of compost, usually based on the vineyard's own waste products, and by making the ecosystem function better to prevent nutrient leaching. With these measures a more closed-cycle system is established in the vineyard.
The need for chemical pesticides is reduced by using a series of complementary measures. These include greater biodiversity, less nutrition, use of pheromones to disrupt insect reproduction; introduction of natural predators of insects, alternative ways to prune the vines, and so on.
However, there are two chemical control methods that are considered essential and acceptable:
Sulphur in the form of calciumsulfide (CaS) against oïdium which is a class of fungi.
Copper in the form of Bordeaux mixture bouillie Bordelaise (copper sulphate CaSO4 and calcium hydroxide Ca(OH)2) against mildou , that is powdery mildew.
In order to become certified to AB the vineyard must undergo a controlled transition period for 3 years, that is four vintages. During this period, producers may indicate that it is
en cours de conversion vers l'agriculture biologique
.
ECOCERT
ECOCERT® is a certification organization that was founded in France in 1991, but now is international. It has the right from the French state to certify Agriculture biologique.
If its' logo (see picture) is on a wine label or a box the consumer can be sure that the requirements of AB are met.
Biodynamics
Biodynamics viticulture is based on the principles behind AB but involves important extensions. The method originated in around 1924 in France within the anthroposophical flow, in which Rudolf Steiner was a prominent figure. There are many commonalities between organic farming and homeopathy.
Key elements in biodynamics is the use of different preparations applied in homeopathic doses, either directly in the vineyard (field preparation) or in the compost that is added to the soil (compost preparations). These are:
Field preparations include the one for the soil humus (preparation 500) and the silica preparation for the vines (501).
Compost preparation of yarrow (502), chamomile (503), stinging nettle (504), oak bark (505), dandelions (506), valerian (507) and horse tail (508).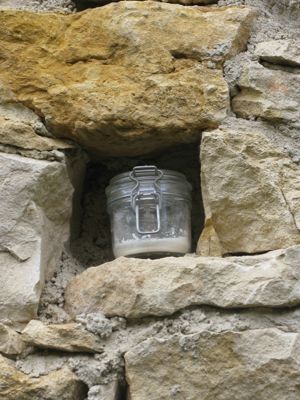 The compost preparations are supposed to make certain nutrient substances in the compost more plant available, sometimes in conjunction with cosmic rays. Silicon specimen 501 should be activated by light before it is spread in doses ine tha range of grams per hectare, in an aqueous solution which has first "dynamised" by mixing in alternating directions for one hour. The image at right shows a jar with 501 during the activation at Clément Klur in Katzenthal.
The work in the vineyard, as in the wine cellar, is controlled by both the astronomical calendar and the lunar cycles. Among other things, work related to leaves, flowers, fruits and roots turns out best if it is performed on specific days according to these calendars.
There is of course a certain skepticism about the esoteric elements of biodynamics. There is also no scientific evidence that the preparations have any effect, or explanations of how the various calendars might influence various processes. Nevertheless, it is difficult to ignore the disarming remark of Olivier Humbrecht : "I am a scientist, and as a scientist I must believe in what I observe."
Certification of biodynamics: Demeter and Biodyvin
The Demeter certification is important in France and internationally. In Alsace, there were in 2011 about 25 producers with the right to use the adjoining seal. To be certified as Demeter teh viticulture must, as a first step, meet the requirements of AB. In Demeter, there are two levels. They first states that the grapes are grown biodynamically (wine issue the raisins Demeter ), the other that the whole wine production is conducted biodynamically (wine Demeter ).
SIVCBD is the short name for the Syndicat International des Vignerons a Culture Bio-dynamics. The syndicate has 59 very high-level members, including Pontet-Canet, Chapoutier and Zind-Humbrecht. It engages ECOCERT for certifying that the members abide by the rules they have set up. The wine may then be sold under the label Biodyvin.
Tyflo
Tyflo is an organization that brings together about 50 (2011) wine producers in Alsace who follow the regulations from OILB, Organisation Internationale de Lutte Biologique et Intégrée . The Tyflo charter does not stricly ban the use of chemicals (as AB does). But the preventive methods encourages will allow the vinegrowers to phase-out the use of chemicals and simplify for the producer to qualify for AB. In addition, Tyflo emphasizes an integrated perspective including more aspects that grapegrowing. For example, Tyflo has extensive regulatory framework for all aspects of operations, including a special oenological regulatory framework for wine making.
Members include highly respected producers such as Beck-Hartweg (Dambach-la-Ville), Rémy Gresser (Andlau), Michel Fonné (Bennwihr), Sipp-Mack (Hunawihr) and Agapé (Riquewihr). Members are reviewed by the independent organization ECOTEST.
A very personal thought is that associations such as Tyflo are indispensible in all knowledge-intensive professions, since they bring things forward by exchange of ideas, rather than just setting threshold limits for a static certification.